This article is about the episode. You may be looking for the VHS.
"A Sense of Direction" is the second episode in the first season of Postcards from Buster.
Summary
Buster goes to the top of Chicago's Sears Tower, for which he meets Farah who tells him about her Muslim life, which intrigues him into comparing her parochial school with his own school.
Plot

This article's missing a plot section. You can help by adding one!
Characters
Major
Minor
Cameo
Mentioned
Songs
Trivia
Goofs/Errors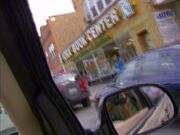 When Buster and his dad are driving to the desert shop, a cameraman is seen in the sideview mirror. 
Home Video
DVD:
VHS:
Community content is available under
CC-BY-SA
unless otherwise noted.