Alex[1][2][3] Davidson[4] is a student in Mr. Ratburn's third grade class at Lakewood Elementary School. He is in Mr. Ratburn's class again for fourth grade.[5]
Biography
Alex displays a generally quiet and reserved personality. Despite being in Arthur's class since kindergarten, he has never talked with him much at all until fourth grade. This suggests Alex might be shy and tends to prefer to keep to himself. He is a "big reader" and is a fan of the Multiverse book series.
Physical appearance
Alex normally wears a tan collared sweater, long brown jeans, and blue and white sneakers. In "Buster's Dino Dilemma," Alex wears a white shirt that has purple on it, purple shorts with green on it, long green socks, and red and white sneakers.
In the summer, Alex wears a light tanned shirt with a white collar, brown shorts, white socks, and blue and white shoes. He wears green pajamas as seen in "The World of Tomorrow." He also wears blue swim trunks as seen in "Desk Wars."
In the winter, Alex wears long brown pants, a green sweater, a cream colored scarf, cream colored mittens, and dark brown shoes. In the fall, he wears a blue collared jacket with a yellow circle on it.
For formal occasions, he wears a white shirt with a brown tie, a tan shirt over his white shirt, long brown dress pants, and black dress shoes. Another type of formal clothes he wears is a green collared shirt, a red and black striped tie, a vest over his green shirt, dark green dress pants, and brown dress shoes.
Relationships
Being in Mr. Ratburn's class, it is likely that he has some sort of relationship with the main characters. He is often seen with George and Jenna. He is most of the time seen with Maria and in a few cases talking to her in the background. Neither his family nor his house is ever seen in the series.
He has been seen talking or hanging out with other minor characters in the background including some of the fourth graders.
Friends
Quotes
Trivia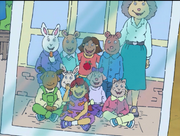 Appearances
While most of his appearances are brief, he has had some minor roles in the series. Episodes with such a notable role are in bold.
Specials

Arthur

Season 1

Season 2

Season 3

Season 4

Season 5

Season 6

Season 7

Season 8

Season 9

Season 10

Season 11

Season 12

Season 13

Season 14

Season 15

Season 18

Season 19

Season 20

Postcards from Buster

Books
Gallery
References