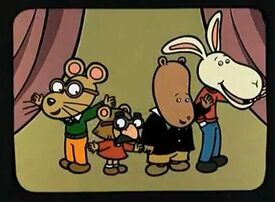 Alfred (formerly known as Andy and Company) is a TV show that is an inside parody of Arthur itself.
Alfred is not actually a mouse; it is unknown what animal he is. Alfred lives with his family in a mushroom house. His sister C.J. is constantly pestering him, and he always calls his mother instead of solving the problem himself. Andy also has a pet dog.
It first appeared in "The Contest," where Alfred hosted a contest for kids to write their own story ideas and send them into the show. It would take the show 5 years to announce the winner.
It later appears briefly in "Baby Steps, where Arthur and Binky watch it until Mei-Lin distracts them with the piano. In this appearance, it is renamed Alfred, and Alfred and C.J.'s clothes resemble Arthur and D.W.'s clothes respectively.
Gallery
Trivia
C.J.'s glasses, nose, and moustache are proven fake when she is seen without them in "Baby Steps."
The outfits worn by the characters are identical to clothing worn on The Little Lulu Show. C.J.'s original dress, for example, is the same kind worn by Lulu herself. Additionally, The Little Lulu Show was produced by CINAR, just as Arthur originally was.
Community content is available under
CC-BY-SA
unless otherwise noted.