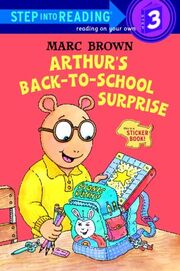 Arthur's Back-to-School Surprise is an Arthur book. It was published by Marc Brown on June 24, 2003.
Summary
Arthur is all set for the first day back at school, but he no sooner sets foot in his new classroom when D.W.'s Mary Moo-Cow, a talking toy for preschoolers, falls out of his backpack in front of all his friends. His friends laugh and begin teasing poor embarrassed Arthur. How did that silly toy get into his backpack and how will he ever live it down?
Community content is available under
CC-BY-SA
unless otherwise noted.