Jurassic World: Dominion Dominates Fandom Wikis - The Loop
Play Sound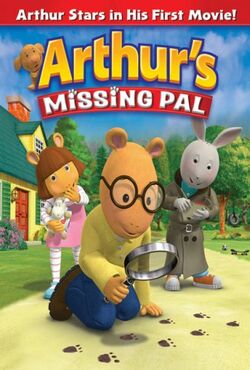 Arthur's Missing Pal is the CGI movie, featuring the characters from Arthur. It was first aired on PBS Kids Go! on August 18, 2006. It was later released to DVD on August 22, 2006. It was written by Ken Scarborough. It premiered on Starz in June 2021.
Summary
Pal goes missing after Arthur leaves for his friends' water balloon fight because Arthur has forgotten to feed Pal. However, he and Buster are certain that D.W. did it, but D.W. denies any involvement. Arthur and his friends mount a search throughout Elwood City for the missing dog.
Plot
Arthur is going to feed Pal when Buster comes and crashes into everything. D.W. is trying to go to the Mary Moo Ice is Nice Extravaganza. Arthur and his friends have a balloon fight and Pal waits to get fed. He drinks his water bowl Arthur told him about. He needs to pee, but no one knows. He tries to pee on the carpet but remembers that Arthur told him not to do so. He runs upstairs to D.W., but she shuts the door on him. Pal cries and whines to Arthur at the window but he gets hit by a water balloon from Francine, which distracts him from Pal. Arthur and his friends leave to the Sugar Bowl. Pal runs to the bathroom, where he tries to pee in the toilet like a person. He tries to step carefully but he flushes the toilet with his paws and falls into the toilet. Arthur says "It just wasn't fair. Francine was right there. Pal started to scratch the glass!" He remembers that he needs to walk Pal. He searches everywhere but doesn't find him. That's when the search starts. They all split up and look for Pal all over town. However, none of them find any sign of Pal. Then Arthur and Buster find Pal's pawprints, which Buster makes a cast of. At that moment, D.W. announces that Pal has gone missing and insults him. Arthur and Buster get suspicious and start questioning D.W. They find out that Pal was in the bathroom trying to get out of the toilet. Meanwhile, Pal is traveling all over town.
This article's missing a plot section. You can help by adding one!
Characters
Major
Minor
Trivia
This is, to date, the only feature-length production from the Arthur franchise.
This is one of the few Arthur productions not to be produced by its main production company WildBrain (then known as Cinar)/Cookie Jar. The film was produced by WGBH Boston, Lionsgate, and Mainframe Entertainment, with the animation/production services being handled by RichCrest Animation (or Crest Animation, as they were later known as). It is also the only production from the series to be produced direct-to-video.
Most of the cast in this movie used pseudonyms instead of their real names as this production was non-union in contrast with the TV series which is union-contracted under ACTRA and occasionally SAG-AFTRA.

Bruce Dinsmore and Daniel Brochu are the only actors from the original series to reprise their roles in this movie. For the aforementioned reason they are credited under different names, with Brochu credited as "Conway Bruce" and Dinsmore as "Bruce Smithee", a play on the Alan Smithee pseudonym.

This movie's plot is similar to the SpongeBob SquarePants episode "Have You Seen This Snail?", in which Gary runs away after SpongeBob forgets to feed him and the third movie.
In 2007, this film was nominated for a Young Artist Award for Best Quality Picture, Sound, and Animation. It was beaten by Disney and Pixar's "Cars".
Mary Moo Cow is referenced in this movie (specifically, Mary Moo Cow on Ice from "The World of Tomorrow" introduction flashback).
This is the first movie seeing all the characters in 3D form instead of 2D form.
Pal is referred to as Lucky by the zamboni/truck driver.
This is the first movie not to feature the theme song at the beginning.
The first and only Arthur movie to be produced by the makers of ReBoot and Beast Wars, and the makers of Alpha and Omega and the 2011 adaptation of Little Engine That Could.
Goofs/Errors
Gallery
Main article: Arthur's Missing Pal/Gallery