This article is about the DVD. You may be looking for the VHS.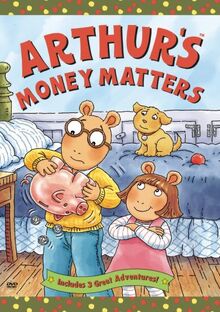 Arthur's Money Matters was released on February 1, 2005 and it contains one from season 1, one episode from season 3, and one episode from season 6.
Opening
FBI Warning
Sony Wonder logo
Random House Home Video logo
DVD Menu
Arthur theme song
Start of episode Arthur Bounces Back
Closing
Last few seconds of episode More
Arthur website promo
Arthur end credits (Season 6)
Arthur funding
Chuck E Cheese commercial
Arthur funding (Season 6 with concord grape purple polka dot background)
PBS Kids logo (Dash Transformation)
Kideo commercial
Sony Wonder online bumper
DVD Menu
Community content is available under
CC-BY-SA
unless otherwise noted.