Wiki Targeted (Entertainment)
Play Sound
Arthur's Perfect Christmas is the music album based off the Arthur TV special of the same name. It contains more songs seen in the TV Show than its predecessor, Arthur and Friends: The First Almost Real Not Live CD (or Tape), including "Baxter Day". The album contain also remixed songs, being played with more musical instruments than the normal.
List of Tracks
Trivia
Holiday greetings from Arthur and D.W. (from the liner notes)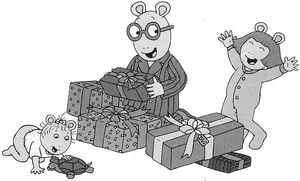 Arthur: Hi everyone! Welcome to my second CD! It has holiday songs from around the world on it, and some songs from my Christmas special, Arthur's Perfect Christmas, which I wanted to call "Perfect Arthur's Christmas."

D.W.: But I wouldn't let you.

Arthur: D.W., I'm talking to my fans. Why don't you go play with Mary Moo Cow?

D.W.: Okay, okay.

Arthur: The CD also has some of our favorite Christmas carols on it...

D.W.: Who's Carol?

Arthur: D.W., be quiet.

D.W.: I won't say another word.

Arthur: Anyway, I hope you have as much fun listening to it as my friends and I had making it! Have a great holiday everyone!

D.W.: And a happy "moo" year!

Arthur: D.W.!

D.W.: That was Mary Moo Cow, not me!
Notes
The name of album is a reference to the original episode "Arthur's Perfect Christmas".
Some of the songs in this album are featured as instrumental versions in the special as background music in such places as the mall or Muffy's house.
"Perfect Christmas" is slightly altered for the album release, most notably Arthur's opening narration.
This album is available for download on Rhapsody.
None of D.W.'s solo songs are the actual carols, instead featuring what she apparently believes to be the lyrics. These lyrics are not transcribed in the included liner notes booklet, unlike the other songs.
The image of Arthur, Pal and Rory on the back of the album's liner notes originates from the Arthur's Perfect Christmas book.
Gallery