Wiki Targeted (Entertainment)
Play Sound
This article is about the game. You may be looking for the book.
Arthur's Reading Race is one of the Arthur Living Books released. It has three modes and 12 interactive pages. The user can also choose from three levels of difficulty.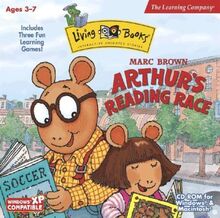 Modes
Read to Me
In "Read to Me", Arthur and D.W take a walk through town and Arthur bets D.W. that she can't read 10 words that they will find on the signs in town. Arthur plays I Spy with D.W. The narrative of the story is read. Words appear on the page so the viewer can track the written words as they as spoken. The user also learns words by watching D.W. respond to Arthur's questions.
You also can play I Spy yourself on any page. D.W. will show you a printed word. Then you click on the object in the picture. The story is animated with lots of chats between D.W. and Arthur which adds to the spirit of fun.
Reading Race
In "Reading Race", you play a board game with D.W. and Arthur. You are presented with a written word and you match the word to the right picture. Your final destination and reward is the ever tantalizing "ice cream" store.
Let me Write
In "Let me Write", you select an object from the screen and place it into a written sentence and the picture transforms itself into a written word. You then see how the word can fit into a simple sentence. You can change the subjects, verbs and objects of any of the sentences and create new sentences and have them read back to you.
Trivia
Notes and references