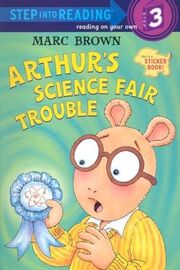 Arthur's Science Fair Trouble is a Step-Into-Reading book. It was published by Marc Brown in 2003.
Summary
Arthur has to do a science fair project, but all of the good ideas are taken: Buster is building a rocket, Muffy is growing crystals, and Francine is making a bird feeder. Arthur learns a valuable lesson when he finds his father?s old solar system project in the attic and tries to use it for his own science fair project. Includes two pages of stickers to help beginning readers create their own Arthur stories.
Plot
On the first day of school, Mr. Ratburn assigns everyone to do a science project for the science fair. Buster tells Arthur that he's going to make a rocket. Muffy grows crystals and Francine builds a bird feeder to study birds. D.W. wants Arthur to play Go Fish, but he says he's busy. D.W. tells him about Dad's projects and that Arthur could ask him for help, but Arthur says no help is allowed. Arthur finds a broken model of the solar system, and he fixes it up. On Monday, everyone is impressed with Arthur's project, but he feels guilty. He tries to tell Mr. Ratburn, but Mr. Ratburn has to leave for a dentist appointment. At the Parents' Night, Mr. Ratburn gives Arthur's project the blue ribbon, but he admits that it isn't his. Mr. Ratburn gives Arthur's dad the blue ribbon and assigns Arthur another science project.
Characters
See also
Community content is available under
CC-BY-SA
unless otherwise noted.