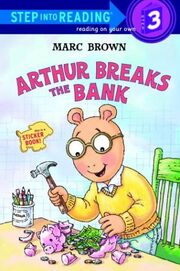 Arthur Breaks the Bank is a book that was published in 2004.
Summary
Arthur is not very good at saving money. So when he begins mowing lawns and walking dogs for extra money, D.W. wants to know why. "It's a secret," he says, and every day he stuffs more money into his piggy bank.
Eavesdropping on Arthur, D.W. learns that he is going to break his bank. Determined to keep him from foolishly spending his hard-earned savings, D.W. hides the bank — until she learns that he has actually been saving up for her birthday present!
Community content is available under
CC-BY-SA
unless otherwise noted.