Jurassic World: Dominion Dominates Fandom Wikis - The Loop
Play Sound
"Background Blues"
Season/Series:
3
Number in season:
4A
Original Airdate:
November 19, 1998[1]
September 9, 1999[2]
February 26, 2002[3]

Credits
Written by:
Peter K. Hirsch
Storyboard by:
Robert Yap

Episodes

Previous
"Sue Ellen and the Brainasaurous"
Next
"And Now Let's Talk to Some Kids"
"Background Blues" is the first half of the fourth episode in the third season of Arthur.
Summary
A class project gets the kids tracing their family trees. Will they turn out to be descended from royalty-or just from "plain folks"?[4]
Plot
In the future, R4 is working on a computer, and creates a hologram of a tower. His robotic dog Hal jumps into his lap. Just then, his sister 3W floats into the room and crashes into R4, causing him to delete his hologram. He complains about this to his Mom, who suggests he do his homework. After he does so, 3W shows up and asks R4 to play Virtual Flingee with him, which he agrees to. They end up fighting while playing, so their mom has them sit down, and she shows them a datagram, containing footage of ancient times...
Background Blues
Mr. Ratburn shows his students his family tree. He gives the class an assignment to research and make a presentation on their family history.
At art class, Muffy and Francine begin to fight about who will turn out to have the more important ancestors. Arthur tells them it's not a contest, and Buster thinks they all have interesting relatives.
At his condo, Buster talks with Bitzi about his ancestors. He discovers that his grandfather was a tollbooth operator. Bitzi isn't sure what her grandfather did, as she never asked him, but Buster tells her he thinks he can find stuff about him in the library.
At the library, Arthur has been having success in tracking down his ancestors- he shares with Buster his discovery that his great-uncle owned a cheese shop- but Buster has had no luck in finding any of his ancestors yet. Muffy tries to find the Crosswire section, but finds that there's nothing on the Crosswires at the library- not even a single book. Francine shows up with a newspaper and tells Muffy her grandfather owned a castle. She asks Muffy what she was able to find out, but Muffy says her family is "too important to be in" the library, and that they have their "own private archives."
At Muffy's mansion, Millicent tells her that the Crosswires, in fact, are "just plain folks." Muffy won't believe this, and Ed suggests Muffy visit her great-aunt, saying that she will probably know some interesting things about the family.
The next day, Arthur, Francine, and Buster are chatting about their reports. Buster has a lunchbox that belonged to his grandfather, but is unable to open it. Muffy shows up in her limo, and Francine shares with her her findings that her great great grandfather was an advisor to Abraham Lincoln. Muffy says that she's going to see her great aunt, who she claims "is a princess."
As she sits in the limo, she justifies to herself her claim about her great aunt's royalty, saying it could be true. She then realizes that her great aunt is "too old to be a princess", and is probably a queen. Muffy then thinks that if that's the case, then she, Muffy, might be a princess! She arrives at her great aunt's house, which to her disappointment, is not any kind of palace, but rather a ramshackle house with garden gnomes and plastic flamingos in the yard. Muffy's great aunt, Olga Crump, talks about how the Crosswires were originally in the business of selling used horses before moving onto carts and then cars. She gives Muffy a lawn gnome named Juniper for her report. Muffy feels that Francine will probably have something more exciting for her report- probably something of Abraham Lincoln's!
Francine's grandpa gives her a picture of her great great grandfather for her report. It turns out that he was a barber, and he advised Lincoln to trim his beard, which the latter did. Francine, feeling that this is not as exciting as what Muffy will have, decides not to use the photo. Her grandpa shows her another photo, one of himself in front of the castle he owned- a Hamburger Castle. Francine accepts this photo, but decides to cut off the bottom part, in an attempt to make it look as though her grandfather is standing in front of a real castle.
Later at The Sugar Bowl, Francine and Muffy are making grandiose claims about their ancestors. Muffy ends up admitting the truth about her family: they were just plain people. She's jealous of Francine's "exciting" relatives, and Francine keeps this deception going. That night, Francine's grandfather gives her a photo album with more pictures of the Hamburger Castle. He tells her it should make a great report, and to make the Frenskys' proud. Francine feels that her grandpa's feelings will be hurt if she tries to make him seem more exciting, and that she should perhaps tell the class the truth. However, she feels that her grandfather's hamburger business will make for a very boring story, even compared to Muffy's, and in the end, she cuts off the bottom portion of the photo, like she planned.
After Francine has left for school, her grandfather stops by the apartment and realizes Francine left behind the photo album. He says she'll "need it."
After Muffy's report, which focused on the history of Crosswire Motors and was presented by a news anchor, it is Francine's turn. Wearing a top hat and fake beard, she is about to give a "dramatic recreation" of a conversation between Lincoln and his advisor, her great great grandfather. At this moment, her Grandpa comes into the class room. He has brought her the photo album, and Mr. Ratburn asks if he would like to stay for Francine's report, which he agrees to. Francine decides to reveal the truth about her grandfather owning a Hamburger Castle. This ends up being interesting to the class, and Francine also shares that her great great grandfather did advise Lincoln, but it was to trim his beard. She shows the class a bag that contains bits of Lincoln's beard. Her report is a success.
For Buster's report, he shows a sandwich from 1955 that was inside his grandfather's lunchbox. He takes a bite, and discovers that it's a baloney sandwich. This disgusts everyone.
Back in the future, R4 and 3W discuss the video. 3W liked it, but didn't understand a lot of it (for one thing, what were hamburgers?)
Characters
Major
Minor
Cameo
Trivia
Cultural references
Errors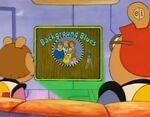 At the beginning of the episode, when R4 and 3W were watching Background Blues, when it showed the title card, the title "Background Blues" was in blue, but when the title card appears, the text is red instead of blue.
Home video
DVD:
Free on-demand episode courtesy of
PBS (Thirteen)
Gallery
Screenshots
References