Doctor Strange in The Multiverse o Madness - The Loop
Play Sound
Shelley[10] "Binky" Barnes is a student in Mr. Ratburn's class at Lakewood Elementary School. He is one of Arthur's friends. However, he is also the leader of a club of bullies called the Tough Customers. He ends up in Mr. Ratburn's class for three straight years, since he is repeating the third grade, and then continues with Mr. Ratburn into his fourth grade class the following year.[11]
Physical appearance
Binky Barnes is an anthropomorphic bulldog and usually wears a long sleeved orange-pecan button up shirt, dark blue slacks, a light blue belt buckle, and brown loafers. He usually wears his shirt tucked into his pants. In the chapter book Arthur and the World Record, Binky says that the tallest man in the world (8 feet, 11 inches) is twice as tall as he is, meaning that Binky measures around 4 feet, 5-1/2 inches.
For formal occasions, Binky will wear a gray polka dotted suit with a top front pocket on the right-hand side of the jacket. Binky kept three pencils in this pocket. The suit also has two pockets, one on each side, with the pocket on the left-hand side being slightly above the one on the right. The suit has two buttons and a black sleeve patch, one on each sleeve. He also wears a white collar shirt, a light green tie, matching trousers and black shoes. He wears green pajamas and green slippers for bed.
Personality
Binky is generally portrayed as the typical school bully (more so in the earlier episodes and books). He does make a point in the cartoon that he has "reformed".
Despite this, he has a softer side: He dances ballet, plays the clarinet and flute, and is a lepidopterologist (butterfly collector), but wants to keep the butterflies alive while in his collection. He usually keeps these interests private and rarely tells or shows others about them.
Binky is also a keen cyclist. Binky cycles to school and enters most cycling tournaments in Elwood City. His most treasured possession is his Vance Legstrong T-shirt.
He enjoys the works of various poets and classical music composers, such as Baroque composer Johann Sebastian Bach, Ludwig van Beethoven, "…just you, me, and Beethoven," Binky said before sitting down to practice clarinet, and Frédéric Chopin, the great romantic composer.
In addition to the interests that indicate his softer side, Binky (despite his reputation as a bully) is shown to not be as tough as he likes to make his classmates think he is. For example, in "Bully for Binky," it is revealed he has never actually had to fight anyone during all the years he has been considered a bully as the victims are typically too scared to do so and usually end up running away. But then when Sue Ellen finally stood up to him and challenged him to a fight and Binky later discovered that Sue Ellen took martial arts lessons (specifically Tae Kwon Do, which Binky later saw on television), Binky started getting worried that Sue Ellen could potentially beat him in a fight.
Binky is secretly afraid of the dark and is also abnormally afraid of Santa Claus (but claims not to be). He is forward and goalkeeper for the Lakewood Elementary Soccer Club. He took great pains to avoid letting Arthur know that he liked to read, feeling he had a rep to maintain.
He seems to thoroughly enjoy art as one time he put a lot of effort into correcting a picture in an art gallery, which was hung in a different way to that which the artist intended.
Family
Mrs. Barnes - Binky's mom is a nurse who loves her son very much, and probably is not very aware of his bullying habits. She's very well-meaning, but occasionally can be a worrywart, as evidenced after she discovered Binky had a serious peanut allergy, during which she kept a constant watch on him. Binky seems to love her very much, as he made put a lot of effort trying to make her a rhyming card for her birthday.[12]
Mr. Barnes - Little is known of Binky's dad since he only appears occasionally, other than the fact that he too is very loving towards his son.
Mei-Lin Barnes - Binky's baby sister Mei-Lin is from China and was adopted by the Barnes family very recently. At first, Binky didn't know how to open up to his new sister, but with patience and some hard work, the two of them developed a very strong bond. Binky takes good care of his sister and works hard to raise her along with his parents and is excited when Mei-Lin shows signs of growth as he was thrilled when she learned to stand by herself.[12]
Friends
Future Life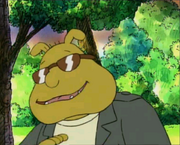 In the intro to the episode "The Election," it is revealed that Binky will be a member of The United States Secret Service. At the end of "The Contest," Binky is shown to have updated his wardrobe as a teenager to incorporate a leather jacket, a white shirt, jeans, and sunglasses. Binky would become a news reporter.
Binky later becomes a newscaster in the flash forward featured in the series finale and regularly uses wrestling lingo during his broadcasts.
Quotes
Trivia
Binky has an interest for Chinese food.[13]
He is a fan of opera as revealed in Lights, Camera... Opera! where he invites Muffy around to listen to his CD of "Carmen".
Binky and his family are Catholic.
According to the chapter book "Arthur and the World Record," Binky is 4.458 feet (about 4 feet 5 ½ inches).
Binky had to repeat third grade due to what was implied to be his poor academic performance, a fact he is proud of, given certain circumstances. Thus, he should have been in the fourth grade with the Tough Customers and Prunella. He is nine years old and not the same age as the other third graders, though in "Binky vs. Binky," a form he has says he's ten years old.
He's allergic to peanuts, as revealed in "Binky Goes Nuts." However, he was originally allergic to pollen in "Francine's Bad Hair Day," but in later episodes, he has a love for flowers (especially during the song "Library Card" in "Arthur's Almost Live Not Real Music Festival") and has no allergic reactions to pollen. This inaccuracy is not noted in the series.
He's considered the best member of the school band due to his expertise with the clarinet, rivaled only by Sue Ellen on the saxophone, coming at a close second to Binky.[14][15]
In "Bully for Binky," Binky hated ballet. But after the events of "The Chips Are Down" and in the later seasons, Binky has grown to have an affinity for it and is shown to be extremely talented at ballet.
Binky hates going on the Science Museum field trip because he was held back and already knows what will happen.
According to Binky, his birthday is next month in "Brother, Can You Spare a Clarinet?," when you calculate Arthur's birthday plus the time Arthur said, you could determine that Binky's birthday is in October because the episode is based in September. It's confirmed that his birthday is sometime between September and May because a score card in "Binky vs. Binky" says he was ten in that episode, which took place in May.
Despite bullying George a lot, Binky has been seen hanging out with him.
As seen in "Night Fright," Binky is revealed to have a nightlight so that he wouldn't have nightmares. Binky also sings about this in the song "My Night Light."
Binky's character was based on a fourth grader known to Marc Brown with a potato-like nose who bullied him and his classmates at recess.[16]
In "The Long, Dull Winter," is revealed that he weighs more than Sue Ellen, Muffy and Fern combined, as he was still at the bottom on a see-saw with all of the girls on the other side. However, the see-saw may have been frozen in place by the cold weather, so he may not actually weigh that much.
In "Sue Ellen's Lost Diary," it's strongly implied that Binky has a crush on Sue Ellen.
In "S.W.E.A.T." Binky mentions that one time while playing his clarinet in front of an audience, his hands got sweaty that he ended up dropping his clarinet on his big toe of his right foot. And he also claims that he has the scar as well.
During the first five seasons, Binky has a dull, orangish-tan complexion. Beginning with Season 6, this changes to a bright, yellow complexion for the remainder of the series.
He had an

Ultra-Bouncy ball

that was confiscated by Mr. Ratburn.[17]
Binky is 9 at the start of Grade 3, while the other students are 8 and students should be 8 (or sometimes 7) when entering the third grade. This could be for his bad behavior and having to redo a grade. Furthermore, in season 10, he is now the age of 10, and he's still in the third grade, which proves even further that he had to redo a previous grade.
A talent that Binky has is belching. As seen in The Good, Bad, and the Binky, Binky ate Arthur's cheese and burped loudly. In "Do you speak George?", he tried to make a language that involved burping. In "Baby Steps", Mei Lin pulled Binky's finger and he did a loud burp.
Appearances
Specials
Season 1
Season 2
Season 3
Season 4
Season 5
Season 6
Season 7
Season 8
Season 9
Season 10
Season 11
Season 12
Season 13
Season 14
Season 15
Season 16
Season 17
Season 18
Season 19
Season 20
Season 21
Season 22
Season 23
Season 24
Season 25
Gallery
References