Catherine Frensky is the older sister of Francine.
Physical appearance
Catherine is a monkey with a brown complexion. She has long dark auburn hair and bangs, with her long hair tied into a ponytail with a red hair tie. In "The Blizzard", her hair was brown and her hair tie was purple.
She usually wears a blue denim vest, a cream-colored (originally white) turtleneck, and blue pants, usually with red leg warmers.
In "Muffy Gets Mature", Catherine's outfit is much different. She wore an aqua green vest, a yellow T-shirt and a green skirt with red and white lines.
Personality
Catherine is almost the exact opposite of Francine: she likes wearing dresses, is a very responsible person, and she really loves to shop. She is a high school student who enjoys reading teen magazines and frequently uses the telephone and her cellphone. Like most sisters, Francine and Catherine go through various fights, like how to decorate their room in the episode "Francine Redecorates" and who gets the last soda; however, despite their arguments, they genuinely love each other. She briefly wore lipstick in one scene of "My Dad, the Garbage Man," nail polish in one scene of "Stolen Bike," and got a pedicure in "Muffy Gets Mature," but she usually prefers to keep her appearance natural. In "Is That Kosher?" her sleepwear is a blue nightgown.
Appearances
Season 1
Season 2
Season 3
Season 4
Season 5
Season 6
Season 7
Season 8
Season 9
Season 10
Season 11
Season 12
Season 13
Season 14
Season 15
Season 16
Season 18
Season 21
Season 22
Friends
In "Muffy Gets Mature," some of her friends from high school are revealed, including Angi, Debi, and Tami. Her friends have appeared occasionally since then, including at her bowling party in "Surprise!"
Trivia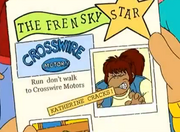 According to "Vomitrocious," it is implied that Catherine is a 10th grader, as she mentions a classmate named Lucas Hanson who vomited during math period in 5th grade, which occurred five years in the past.[2] She also celebrates her 16th birthday in "Surprise!" which coincides with this implication as well, as most sophomores in high school would be 15 to 16 years old during the duration of the year. This conflicts with Oliver's explicit utterance of her being a "junior in high school"[3] in the same episode.
In "Citizen Frensky," her name is spelled with a "K." It is suggested that this is the incorrect spelling of her name, because it has been spelled with a "C" in other episodes.
Like the rest of her family, Catherine is Jewish.
In "Play it Again, D.W." and "D.W.'s Name Game," she babysits Arthur and D.W.
"The Master Builders" reveals that she goes to a CTE (Career and Technical Education) school, and she wants to be a designer. Her school has a 3D printer.
Gallery
References
↑ "Well, Catherine is turning 16; whatever I give her has to be perfect." — Francine Frensky, "Surprise!"
↑ 2.0 2.1 "When Lucas Hanson barfed in our fifth-grade math class..." "I know-- everybody called him "Lucas Pukus." "Still do, and that was five years ago. " — Catherine Frensky and Francine Frensky, "Vomitrocious"
↑ 3.0 3.1 "Frankie, your sister and I had a talk today, and, well, she's a junior in high school now..." - Oliver Frensky to Francine Frensky, "Surprise!"