Jurassic World: Dominion Dominates Fandom Wikis - The Loop
Play Sound
Clarissa
Item Type

Porcelain Doll

Owner

Grandma Thora (formerly)
D.W. Read

Appearances

First Appeared (cartoon)
Clarissa is a porcelain doll that Grandma Thora owned since her 5th birthday as seen in the episode Clarissa is Cracked. Thora always places Clarissa in a cabinet for display.
Sypnosis from Clarissa is Cracked
Thora loaned Clarissa to D.W. for a while. While D.W. was borrowing the doll, she was fiddling around with her, such as styling her hair, giving her food (though dolls cannot eat, due to their inactivity), and generally messing her up. After the abuse from D.W., Clarissa had the left upper quarter of her face broken off. After the incident, D.W.'s parents warned her about the doll being damaged, and point out to her that Clarissa is very old and unique and that it means a lot to Thora. D.W.'s parents and Arthur show her in Thora's photo album the fact that Thora first received the doll on her fifth birthday and how much it has meant to her for her entire life since then. When it was almost time for Thora to have the doll back, D.W. and her family were trying several ways to get her fixed: the Doll Hospital that was closed for a month, the Doll Repairs website that had repair plans put on hold for six months, and finally D.W. tried fixing Clarissa by tying a headband around her head to hold up the broken piece, which turned out to be ineffective.
Arthur then takes D.W. to Mr. Ratburn, who manufactures and repairs puppets. Mr. Ratburn agrees to fix the doll, and then a couple of hours later, D.W., Arthur, and their father David come to Mr. Ratburn's house to pick up the doll. D.W. fears he could have destroyed her, but later finds out he has completely restored the doll. After Clarissa is restored, D.W. then takes Clarissa home, and shows Thora the doll. D.W., however, came clean of what happened. But Thora wasn't disappointed, because she then explains that she has broken Clarissa many times over the years, but always managed to have her fixed the same way Mr. Ratburn did. The doll even looked better than before D.W. borrowed it.
In The Big Dig, Arthur finds a doll head that looks almost identical to Clarissa's while searching for a supposed treasure map his grandfather had.
Description
Clarissa is a bear-like porcelain doll with a pale complexion, long light brown hair with bangs, blue eyes with eyelashes, a pink nose, and bright red lipstick. She wears a bright green hair ribbon, a purple dress with lavender frills with four-spoked flowers, and a pair of gray Mary Janes.
She is very prone to being cracked and broken if the handler is not being cautious.
Trivia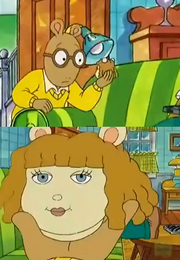 In the episode "The Big Dig", Arthur finds a doll head in the couch that looks similar to Clarissa's.
Ironically, if Clarissa had been broken many times, the cracks would still be there and would require a gelatin-like job to hide the cracks. However, Ratburn was able to get the job done.