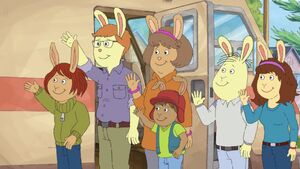 Compson is the surname of a family originating from Louisiana.
Ladonna, Bud, and their immediate family lived in a house in Elwood City from the episode "Based on a True Story", until the episode "When Duty Calls".
Family members
| Person | Notes |
| --- | --- |
| Lena | Ladonna's great-grandmother. Lived to age 108.[1] |
| Bo | Ladonna's aunt. A blue-haired harp player who is starting to go bald.[2] |
| Mable | Ladonna's aunt. The second best bingo player in Orleans parish. Mysteriously creates knitted ponchos without knowing how to knit.[3] |
| Silas | Ladonna's uncle. Works as a clown and has a pet parrot.[3] |
| Whitney | Ladonna's uncle. Built a jet pack from a can of soda pop.[2] |
| Doc | Ladonna's cousin. A nutritionist who lives in Miami.[4] |
| Cisely Compson | Ladonna's mother. A trumpeter who played in a band until age 25. Met her husband after he bought back the trumpet she was forced to sell when she was broke.[2] |
| Rufus Tucker Compson | Ladonna's father. A soldier holding the rank of Captain and a member of the Army Corps of Engineers.[5] |
| Gussie Compson | Ladonna's older brother. Chipped a tooth on the plastic baby from a king cake. Worked for one summer at an alligator sanctuary.[2] |
| Madison Compson | Ladonna's older sister. |
| Ladonna Compson | An 8-year-old who was formerly in Mr. Ratburn's class. |
| Bud Tucker Compson | Ladonna's younger brother. A preschooler with an imaginary friend named Rapty.[6] |
Pets
References
Community content is available under
CC-BY-SA
unless otherwise noted.