Wiki Targeted (Entertainment)
Play Sound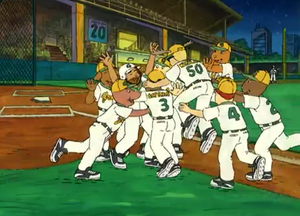 The Elwood City Grebes are a professional baseball organization that represents Elwood City and dates back to at least 1918. They are a fictional representation of the Boston Red Sox. They first appear in "Bitzi's Break-up", but played a more prominent role in "The Curse of the Grebes," when they compete in the World Championship (a parody of the World Series). Before the episode, they hadn't won the World Championship for 87 years. Their home venue is Elwood City Stadium.
History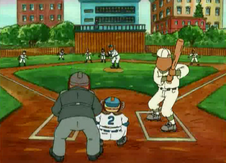 The Grebes are named after a bird species native to the Elwood City area which is now rare because of the forest being cut down for urbanization.
In "Bitzi's Break-up," the Grebes are portrayed as a horrible team, losing their 23rd game in a row.
Before their winning the championship in "The Curse of the Grebes," some people believed that the reason the Grebes didn't win a World Championship for 87 years was a curse called the The Curse of the Kid.
In "Ladonna Compson: Party Animal", which (probably) takes place the following year, the Grebes have made it to the playoffs.
Real World References
The Grebes have similarities to the Boston Red Sox. The Curse of the Kid parodies the Curse of the Bambino and three players (Playmon, Winlin, Batería) are based on actual players from the 2004 and 2005 Boston Red Sox team. In "The Perfect Game" Francine designs a stadium called Frenway Park, which refers to the Sox's Fenway Park.
2004 World Championships
Statistics
According to league statistics the Grebes were better than the Kings, although the Kings manage to force the series to Game 7. These are the statistics for the most popular Grebes
players.
Playmon, hits .375 and .465 on base percentage
Batería is the best shortstop in the league.
Winlin has 27 saves and a 2.1 ERA.
Series Outcome
An informative table of which teams win which games in the series.
| Game Number | Winner | Score | Last at Bat of the Game |
| --- | --- | --- | --- |
| 1 | Elwood City Grebes | N/A | |
| 2 | Crown City Kings | 6-3 | Muckey Flint, #9 batter, Home Run. |
| 3 | Elwood City Grebes | N/A | |
| 4 | Elwood City Grebes | N/A | |
| 5 | Crown City Kings | 3-1 | |
| 6 | Crown City Kings | N/A | N/A, Grebes lose from error. |
| 7 | Elwood City Grebes | 11-10 | Playmon hits a walk-off Grand Slam. |
Players
Former Players