Ethel Saperstein is a resident of Westboro Apartments. She lives in apartment number 237 with her husband.
On Halloween, she tells a story about the "golem" to trick-or-treaters. In the story, she explains she lived in Mindelplatz as a girl.
When Francine returns, Mr. Saperstein answers the door and says the picture of young Ethel was his younger sister who vanished years ago.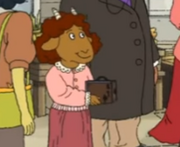 Appearances
Arthur
Community content is available under
CC-BY-SA
unless otherwise noted.