Flossie is a local hairdresser who works in Salon de Beauté. She often speaks in a sweet voice with a French dialect. She can speak many words and phrases in French, such as au courant (up-to-date) and Ma chérie (My dear). Muffy appears to know her on a first name basis. She also enjoys talking into the microphone to announce to everyone about someone getting their hair done. She doesn't seem to like Francine as much due to Francine not having money.
Appearance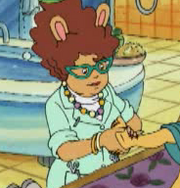 Flossie is a brown rabbit with blonde hair. She wears a pair of brown glasses. She wears a purple shirt under a purple coat, and has a white necklace. In her appearance in Postcards From Buster, she has a lighter skin color, brown hair, and green glasses. She wears a white shirt under a green coat and a different necklace in this appearance.
Season 1
In order to prepare for School Picture Day, Muffy contacted Flossie to schedule a hair appointment and blackmailed Francine into getting her hair done. After picking the style she wanted, Francine went to sleep. When she woke up she was less than thrilled after her hair. She subsequently paid Flossie and left.[1]
Season 4
She entered the Mega Kid clothing store in the Mill Creek Mall as Buster ran out, driven mad by all the clothes.[2]
She was in Arthur's fantasy about Buster attending the next annual Father's Day Picnic without his dad; he imagined everyone (including Flossie) would overreact and give him a "group hug" after he told Mr. Haney his father wasn't there because his parents were divorced.[3]
Appearances
Quotes
Oh well, we don't promise miracles, not in your price range anyway." — Flossie, "Francine's Bad Hair Day
References
Community content is available under
CC-BY-SA
unless otherwise noted.