This article is about the comic book. You may be looking for the character.
Grotesquely Grim Bunny: Guardian of Doom
Item Type

Comic Book

Owner

Meteor Comix;
Arthur, Buster, and Fern (formerly)

Appearances

First Appeared (cartoon)
Grotesquely Grim Bunny: Guardian of Doom
is a scary comic that is currently sold at
Meteor Comix
. So far only two issues have been made. In "
Tales of Grotesquely Grim Bunny
",
Arthur
,
Buster
and
Fern
bought the first issue with all of their money combined, because it was more expensive then most of the other comics in the store. All of them found it scary, except for Fern, who enjoyed it; but they all agreed that the artwork was great.
Description by Fern
".. And then Grotesquely Grim Bunny has to protect the horrible underground city of doom, from the even more horrible Creepy Weasel Monkey Mole, who lives in a warren beneath a junkyard known as the under-underground. He's evolved from the DNA of buried bones and radioactive worm waste. You can hear the monster approaching... you can feel the monster approaching. But by then, it's too late."
Characters
Angry Flying Cats
Creepy Weasel Monkey Mole
Grotesquely Grim Bunny: Guardian of Doom 2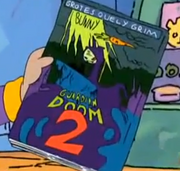 A sequel, Grotesquely Grim Bunny: Guardian of Doom 2, is revealed to exist. Little is known about this issue as they did not read it.
Quotes
Whoah! It's amazing artwork! - Fern
Ewwww! Creepy! But, kinda cool, too. It's creepy cool. - Buster
I definitely want this. - Fern
Interesting combination of illustration styles. - Brain
Appearances
Arthur
Community content is available under
CC-BY-SA
unless otherwise noted.