In many Arthur productions and books, inside jokes have been seen or heard. These can include characters referencing to crew members or other inside information.
During an imagine spot D.W. has about Walter the deer being homesick for his family when living with the Reads, among the relatives Walter lists off his his sister Sheilarae, most likely referencing to writer Sheilarae Carpentier Lau.
Marc Brown is on the guest list and is seen sitting in the celebrity row.
Jeremy O'Neill, an Arthur storyboard artist, was on the guest list
In Arthur's fantasy in the intro, Arthur is awarded the Marc Brown Certificate of Existence, referencing the fact that Marc Brown created Arthur.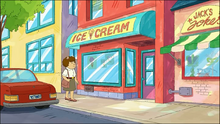 When Mrs. Bickles walks next to the ice cream shop, the car on the road's license plate is 9 Story. 9 Story Media Group started producing Arthur during that season.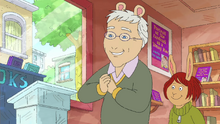 Marc Brown is seen at Fern's book signing. He asks her to make his book out to him.[1]
One of the passwords shown in the password book is "Ar1976." The first Arthur book was published in 1976.
D.W. dismisses liking Crazy Bus entirely, saying that it is for little kids. This is a reference to the writer and performer of the song, Joe Fallon, leaving the show.
Arthur Books
In the Arthur Adventure series, Marc Brown hid the names of his children, Tolon, Tucker, and Eliza, in illustrations on each page. These are also present in some spinoff titles.
In Arthur's Tooth, the spelling words on Mr. Marco's blackboard reference previous Arthur books, such as "Santa," "eyes," and "camp."
References
Community content is available under
CC-BY-SA
unless otherwise noted.