Jim's Drugstore
(or
Jim's
) is a drug store. It sells sweets, toys, and some school necessities like lunch boxes.
In the episode "Nerves of Steal", Buster steals a CyberToy from there and places it in Arthur's backpack. In the end, the boys decide to return it, but both get into trouble for lying and stealing. Mr. Gage, the owner, had both boys taken home by their parents for the theft.
The store has been in Elwood City for quite some time, as it appeared in Grandma Thora's slideshow of Elwood City decades before Arthur was born.
The store possesses a single security camera above the front counter. The fact that it was not working at the time Buster stole the toy made it easier to sneak out of there.
It receives a cameo appearance when Francine and her dad drive past it heading to soccer practice in "The "A" Team", meaning it is right across the street from Lakewood Elementary's soccer field. It has received other cameo appearances throughout the series.
Appearance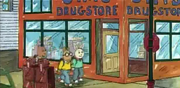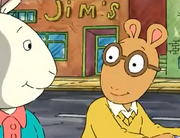 In the store's most famous episode, "
Nerves of Steal
", it is a yellow/tan color with green lettering on its name. However, in "
To Beat or Not to Beat
", it is orange with blue lettering. In "
Arthur Changes Gears
", it has a new, more chic look. It's now known as simply Jim's.
Community content is available under
CC-BY-SA
unless otherwise noted.