John Lewis is a congressman from Georgia who was an important civil rights leader in the 1960s. He helped ensure equal rights for black Americans and was an important ally of Martin Luther King Jr. John is also an old friend of Mrs. MacGrady, whom he has known since the March on Washington. "Arthur Takes a Stand"
Behind the scenes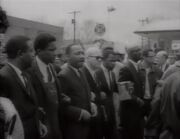 Though not identified within the episode, John Lewis first appeared in "D.W.'s Name Game" during an imagination sequence where D.W. looks at history books. This scene used real footage from the Selma to Montgomery marches of 1965.
In an alternate line of dialogue not present in the final version of "Arthur Takes a Stand", Ladonna mentions that John Lewis wrote the graphic novel March.
Community content is available under
CC-BY-SA
unless otherwise noted.