m

m

(7 intermediate revisions by one other user not shown)
Line 1:
Line 1:
−

{{Online Game|type=Reading|characters=[[Mrs. MacGrady]]<br>[[Alan Powers|The Brain]]|controls=Mouse|platform=Online|image=Lunchomatic splash.gif|link=http://pbskids.org/arthur/games/lunchomatic/}}

+

{{Online Game|type=Reading|characters=[[Mrs. MacGrady]]<br>[[Alan Powers|The Brain]]|controls=Mouse|platform=Online|image=Lunchomatic splash.gif|=http://pbskids.org/arthur/games/}}

 

'''Lunch-O-Matic: A Cafeteria Challenge''' is a game on the ''Arthur'' page of the [[PBS Kids]] website.

 

'''Lunch-O-Matic: A Cafeteria Challenge''' is a game on the ''Arthur'' page of the [[PBS Kids]] website.

 
 
 

==Gameplay==

 

==Gameplay==

 

A lunch tray will come down an assembly line, and [[Alan Powers|the Brain]] will tell the player what vitamin or nutrient the lunch is missing. The Lunch-O-Matic will show 4 options of foods, and clicking on them will display information about their nutritional value. After selecting a food for 5 lunches, a display board will show the player's correct choices and total points.

 

A lunch tray will come down an assembly line, and [[Alan Powers|the Brain]] will tell the player what vitamin or nutrient the lunch is missing. The Lunch-O-Matic will show 4 options of foods, and clicking on them will display information about their nutritional value. After selecting a food for 5 lunches, a display board will show the player's correct choices and total points.

 
+

[[File:Game Lunch-o-matic.jpg|thumb|220x220px|Gameplay]]

 
+
 
+

==External links==

 
+

*[https://pbskids.org/arthur/games/lunch-o-matic Lunch-O-Matic on PBS Kids]

 

{{OnlineGameNav}}

 

{{OnlineGameNav}}

−

[[Category:Online Games]]

+

[[Category: ]]

 
+

[[Category:A to Z]]
---
Revision as of 13:37, 17 January 2020
Lunch-O-Matic: A Cafeteria Challenge is a game on the Arthur page of the PBS Kids website.
Gameplay
A lunch tray will come down an assembly line, and the Brain will tell the player what vitamin or nutrient the lunch is missing. The Lunch-O-Matic will show 4 options of foods, and clicking on them will display information about their nutritional value. After selecting a food for 5 lunches, a display board will show the player's correct choices and total points.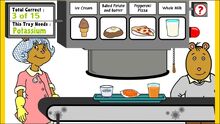 External links
Community content is available under
CC-BY-SA
unless otherwise noted.