The Mandalorian's Popularity | The Loop
Lydia Fox[3] is a girl who plays on the wheelchair basketball team.
Biography
She helped Brain learn to play basketball in a wheelchair when he injured his ankle. "The Wheel Deal"
She later entered the Little Miss Crocus pageant, along with Muffy. "Little Miss Meanie"
Lydia was a substitute basketball coach at the preschool, where she met D.W. Read. "The Princess Problem"
Physical appearance
Lydia has a light tan complexion and short red hair. She wears red, rectangular-shaped glasses. Lydia wears a lavender, lime, and green t-shirt with a picture of a flower, a purple skirt, white socks, and gray shoes. For playing sports, she wears a red-orange t-shirt with yellow edges/stripes and a yellow number '1', black pants with red stripes on the sides, and white and light blue shoes.
Personality
Lydia is an tomboy with an love for basketball who doesn't let her wheelchair be an obstacle for her.
Behind the scenes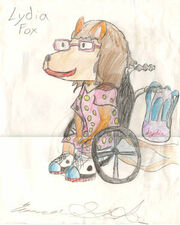 Lydia was the winning character in the 2009 "All Kids Can Character Search" contest,[4] created by 11-year-old Connor Gordon of Savage, Minnesota.[5]
A local news interview in 2010 hinted that Lydia may become a permanent character on the show.[6] Despite the 2009 claim that Lydia was already planned to be in two additional episodes,[7] these episodes were not actually in development at all.[8] However, Lydia was eventually planned to appear in season 18,[8][9] which was over 6 years later. Due to the fact that two seasons were produced at once, Lydia's episode ("Little Miss Meanie") was made part of season 19 instead.
Connor originally wrote Lydia's backstory that she was paralyzed from the waist down from an injury at age seven.[10] However, this idea was not kept in the TV episode, where Lydia instead says she has been that way since birth. Connor described Lydia as a 10-year-old,[5][11] but no official material has confirmed it.
In Connor's original entry, Lydia's full name was Lydia Fox. In the voice credits for "The Wheel Deal", her name was changed to Lydia Gordon,[2] presumably in reference to Connor Gordon, though this last name is not spoken in the episode itself. In "Little Miss Meanie", the full name Lydia Fox is said aloud multiple times.
Appearances
Arthur
Online
Gallery
Main article: Lydia Fox/Gallery
References
Community content is available under
CC-BY-SA
unless otherwise noted.