Moonlight Mazes
Game Information
Game type
Maze
Main character(s)
Buster Baxter, D.W. Read
Release Date
January 8, 2020
Platform
Online
Moonlight Mazes is a game on the PBS Kids Arthur website. It was released on January 8, 2020, and it is based on the special "The Rhythm and Roots of Arthur."
Gameplay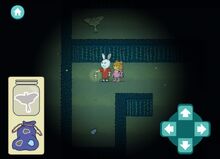 Using arrow keys or mouse the player has to direct
Buster
and
D.W.
through a corn maze. The player can only see the immediate area around the children. The object is to collect three gems and an animal and then find the exit.
There are 12 mazes in total.
Characters
Major
Mentioned
Trivia
External links
References
Community content is available under
CC-BY-SA
unless otherwise noted.