Wiki Targeted (Entertainment)
Play Sound
Mr. Morris is the former janitor of Lakewood Elementary School.
Biography
As revealed in "April 9th", Mr. Morris worked as a dog groomer before he became a janitor. In 1967, during a dog show, he discovered corn circles, which may have started his interest in aliens.
As a janitor, Mr. Morris is on good terms with Arthur and his friends. He is a witness in both "Arthur Accused" and "Binky Rules". In "Finders Key-pers", Arthur, Brain and Binky nearly end their friendship over a key that actually belongs to Mr. Morris. In "The Blizzard", he declares janitorial law and makes Mr. Ratburn and Mr. Haney help him to keep the pipes unfrozen.
In "April 9th", the school is damaged by a fire and Mr. Morris breaks his leg. While in hospital, he becomes friends with Buster, with whom he shares asthma and an interest in aliens. After getting out of hospital, he retires and moves in with his daughter in New Mexico. He keeps up contact with Buster.
Despite his retirement at the end of Season 7, he has several mostly non-speaking appearances in later seasons, e.g. "Francine's Pilfered Paper". In the Season 19 episode "Dueling Detectives", he has another speaking appearance as janitor.
Other episodes of Arthur and Postcards from Buster show him living in new Mexico. In the Postcards from Buster episode "Alien Adventure," he appears when Buster visits Roswell, New Mexico. He also appears in a flashback in the Postcards from Buster episode "Coming Together", which reuses a flashback from "April 9th," when Buster goes to visit him in the hospital. In the Arthur episode "Buster Isn't Buying It", he is on U.F.O. patrol in the New Mexico desert and he and Buster share their love of The Factoid Front on the phone.
Personality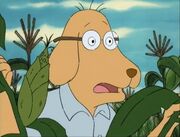 Mr. Morris is a kind man who is very friendly to kids. He does take his work very seriously, though, as seen in "Binky Rules" and "The Blizzard". He has asthma and is allergic to pollen, dander and peanuts. He speaks Portuguese, likes Zydeco music and had an accordion by the name of Beatrice which he gave to Buster.

In "Strangers on a Train," Mr. Morris (or a lookalike) is seen in a green uniform working as a janitor at the train station.
Appearances
Arthur
Specials
Postcards from Buster
Gallery
Main article: Mr. Morris/Gallery