"Mrs. Read's station wagon" is not an official name.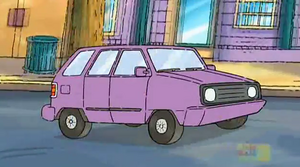 Mrs. Read's station wagon
is a purple 5-door station wagon (white and sometimes red in the books) owned and driven by
Jane Read
, though her husband
David
sometimes drives it. This car was in the family since Arthur was a baby. Arthur,
D.W.
, and
Kate
ride in the back seat. In the back seat, Arthur sits on the seat, D.W. sits in a booster seat with handbars (previously used by Arthur), and Kate sits in an infant booster seat (previously by Arthur and D.W. when they were babies) in the middle. In "
Pick a Car, Any Car
," Mrs. Read's car appeared to have broken down, and Arthur was making several attempts to save it from being discarded, until it was revealed that Kate's rattle was unknowingly put into the exhaust system. This car made several appearances throughout the series, but mainly appeared in episodes where either Arthur or D.W. was the central character.
Description
Mrs. Read's station wagon is purple on the exterior and has round headlamps, a gray grille, rectangular taillights, a single exhaust system, and it has a straight-4 engine. Her car's interior is tan and features cloth seats, including front bucket seats and a rear bench seat; a center console mounted automatic transmission gear shift and parking brake, an aftermarket AM/FM stereo with a cassette player, and manual windows; although some goofs have the interior colored differently and the front seat can be sometimes shown as a bench seat. The cargo compartment is very small and the family usually carries some luggage on the roof, including boats, sleeping bags, floats, and etc.; and despite loading luggage on the roof, the car does not have a roof rack. 
Community content is available under
CC-BY-SA
unless otherwise noted.