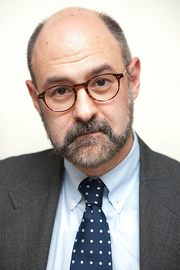 Peter K. Hirsch is the head writer on Arthur. He was a staff writer for the first four seasons of Arthur and took over as head writer after Joe Fallon and Ken Scarborough left the production crew. He is perhaps the program's most prolific writer, having written 105 episodes in total thus far, as well as writing episodes for every season of the program, except for season 23. He also wrote lyrics for some songs in the special Arthur's Perfect Christmas. Some of his other writing credits include Martha Speaks, The Octonauts and Time Warp Trio.
Appearances on Arthur
Confirmed
Speculated
The name 'Peter' appears on a paper on the bulletin board behind Arthur in "Arthur's Big Hit" right after Binky walks into Ratburn's classroom.
Writing credits
Arthur
Postcards from Buster
Specials
Songwriting Credits
References
Community content is available under
CC-BY-SA
unless otherwise noted.