Jurassic World: Dominion Dominates Fandom Wikis - The Loop
Play Sound
This article is about the series. You may be looking for the episode.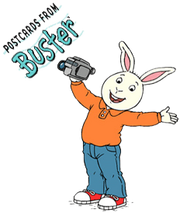 Postcards from Buster is a spin-off of Arthur. Inspired by a 2003 Arthur episode called "Postcards from Buster", it was produced by Canada-based Cinar (then Cookie Jar Entertainment, now WildBrain) and Marc Brown Studios.
The series premiered on October 11, 2004, during the new PBS KIDS GO! block on PBS.[1][2] A second season began in November 2006 and a third in November 2008.[3] The series went through a hiatus between 2008 and 2012. In February 2012, two new episodes were released online and are still available on streaming services, but they are unknown to have ever aired on television, as most local PBS stations had recently stopped airing the show. The show has ceased production since.
Arthur and friends only make occasional cameos in the episodes. The show features Buster's divorced father Bo, and introduces Carlos and Mora, lead singers of Los Viajeros, as recurring supporting characters.
Overview
The series centers on Buster traveling to different places around North America, usually in the United States but also in the Caribbean, Canada, and other places, with his father, who is a pilot for a band of musicians. This was during the time in the Arthur series when he left Elwood City for some time to travel with his father. In each episode, he meets children in the location, who show him aspects of their family's lives and local culture. The sequences with him are animated, while the portions featuring the children are live-action (viewed from the viewpoint of his video camera). After each trip, he sends Arthur a "video postcard" videotape summarizing what he's done and who he's met in each location. The children and their families that are presented on the series are meant to be multicultural and diverse, and range from a Mormon family in Utah to a Mestizo family in Texas.
Thanksgiving Special
Arthur and Buster Thanksgiving Spectacular aired on Thanksgiving Day, November 24, 2005. It featured several Arthur stories and two complete episodes of Postcards from Buster, as well as interstitial postcard segments from the latter, segments with kids from the another WGBH-produced show Zoom and a small additional factoid regarding Arthur and Buster. The Arthur stories shown were: "Buster's Green Thumb", "Dad's Dessert Dilemma", "Thanks a Lot, Binky" and "The Ballad of Buster Baxter". The Postcards from Buster episodes shown were: "Best Friends" and "Among the Hmong". At the end, a secret password for a new game at the official PBS Kids Arthur website was revealed.
DVD releases
A series of Postcards from Buster DVDs of a certain topic have been released by Paramount Home Entertainment. They include Buster's Outdoor Journeys (featuring episodes Sugartime, Meet Me at the Fair, The Giant Pumpkins and Bayou by Me), Buster's Got the Beat (featuring episodes Beats by the Bay, Buster and Beatrice, The Music Mystery and Buster's Sweet Song), Buster's Buddies (featuring episodes Buster's League of Champions, Best Friends, A Sense of Direction and Sleepy in Seattle) and Buster's World of Sports (featuring episodes Winter Gold, Swimming in the Desert, Rock and Roll and Rodeo Cowgirl).
On October 12, 2010, Mill Creek Entertainment released the complete first season on DVD in Region 1. For some unknown reason, the cover art for it states that this is "the complete series", when in fact it is not as there are 13 more episodes.[5]
Seasons
External links
References