Jurassic World: Dominion Dominates Fandom Wikis - The Loop
Play Sound
This article is about the Arthur episode. You may be looking for the spin-off series.
"Postcards from Buster" is the sixth episode in the eighth season of Arthur. It is a two-part episode.
Summary
Buster and the Reads go on a trip to New York to meet Buster's dad. They explore the city.
Plot
Arthur and D.W. eavesdrop on their mom talking to Mrs. Baxter on the phone, while Buster eavesdrops on his mom. Mrs. Read announces that the Reads will be going to New York with Buster, so that Buster can see his dad.
Postcards from Buster
Arthur packs for the trip. He is excited, but Buster is worried that his mom will miss him. Arthur suggests being extra nice to her.
D.W. sees an add for a Broadway musical called Unicornicopia and wants to go. The tickets are expensive so she tells Arthur to save money.
Buster does the dishes for his mom. She wonders what she will do without him which makes him even more worried. He talks to Arthur in the Sugar Bowl and has a fantasy of his mom flooding the airport with her tears. D.W. scrapes the sprinkles off Arthur's sundae and asks Mr. Marino for a refund.
At home, D.W. reduces Pal's allotment of dog food, squeezes the last bit of toothpaste out of Arthur's tube, tries to feed Kate peas that had fallen to the floor, and cuts out coupons for her mom. She also searches the couch with Nadine for coins and finds Snooter, her imaginary flying pig.
Buster tries the opposite strategy and makes a mess so that his mom will be glad when he is gone. She tells him that she will miss him no matter what but wants him to have the experience.
On the morning of the journey, Grandma Thora tell the kids that she won at Bingo and bought them all tickets for Unicornicopia. D.W. is delighted, Arthur less so.
Buster and his mom get ready to leave. Buster takes tissues for her, though she claims she only has dust in her eye.
At the airport, Mr. and Mrs. Read, Arthur, and D.W. say goodbye to Thora, Kate, Pal, and Nadine. Buster and his mom are moved to tears. She gives him a video camera so he can send her tapes of his adventures.
Buster tries out the camera in the plane. Everything seen through the camera is live action footage rather than the usual cartoon.
Part 2
Bo Baxter greets the Reads at the airport. He was unable to rent a minivan, so the Reads take a taxi, while Buster rides in his dad's car. He gets his first footage of New York.
The next morning, the Reads and Baxters meet in the hotel breakfast room. While D.W. proudly shows the hospitality gifts she got from the hotel room, Buster invites Arthur to come with him and his dad to meet the Latin Rock band that has hired Bo Baxter to fly them on their tour. They are supposed to meet at a place called "The Point".
Arthur, Buster and Bo Baxter stop in Chinatown where Buster visits a Chinese bakery. The baker shows him how zongzi are made.
Meanwhile, D.W. and the Read parents take a long time to leave the hotel, because D.W. keeps forgetting things and needs to use the bathroom.
Bo Baxter and the boys find that the car has been towed because it stood in a no-parking zone. They take the subway and watch some people break-dancing at Grand Central Station.
D.W. and her parents get off a horse-drawn carriage in Central Park.
Bo Baxter and the boys end up in El Barrio after their train breaks down. Buster interviews a man doing sidewalk drawings. Then they ask for the way in a Puerto Rican restaurant and are shown pasteles.
D.W. and her parents have lunch at the Hotel Metropole. D.W. has a fantasy of living there.
Bo Baxter and the boys get lost after a cab took them to the Bronx. They go to a bakery and ask two girls for the way. The girls take them to "The Point", which is a youth center where kids learn juggling and photography and do homework.
After that they have a hotdog in a small restaurant. Arthur realizes that the musical will begin in fifteen minutes.
Nadine takes Arthur's seat at the musical. D.W. is disappointed by the show. Arthur misses it completely. The Baxters and Reads reunite in front of the theater. Buster apologizes, but Arthur is glad to have seen so much of New York.
Characters
Major
Minor
Chinese Baker (live action)
Break Dancers (live action)
Dr. De La Vega (live action)
Boy at "La Fonda Boricua" (live action)
Sharay (live action)
Jasmine (live action)
Cameo
Trivia
Cultural references / Real life locations
When making postcards, D.W. mispronounces the Empire State Building, Rockefeller Center, and the Statue of Liberty (in "D.W. Goes to Washington", she pronounced Statue of Liberty correctly).
In Chinatown, Bo Baxter and the boys start at the corner of Canal Street and Mott Street, then walk to Baxter Street.
May May Gourmet Chinese Bakery used to be at 35 Pell Street. It closed in late 2007, almost four years after this episode aired.[3]
The Chinese baker shows Buster zongzi, the Chinese version of tamales. They are traditionally wrapped in bamboo leaves.
Bo Baxter and the boys change subway trains at Grand Central Station.
D.W. and the parents visit Central Park and plan to go to the Museum of Natural History.
Bo Baxter and the boys have to leave the train at El Barrio, also known as Spanish Harlem or East Harlem.
The restaurant La Fonda Boricua is at 169 East 106th Street[4].
In La Fonda Boricua, Buster is shown pasteles, the Puerto Rican version of tamales.
D.W. and her parents have lunch at the Hotel Metropole.
D.W.'s imagination sequence about living in a hotel refers to the book series, Eloise.
Valencia Bakery is at 801 Edgewater Road[5].
The Point is a youth center at 940 Garrison Avenue[6].
Episode connections
Production notes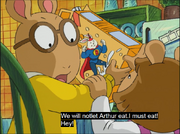 Errors
The "video" section of the Arthur website contains many closed captioning errors, a common issue with episodes from early seasons of the show. This is likely because the video player combines the main closed captioning track with a secondary track in which the dialogue is extremely simplified for easier comprehension among younger children. This is the only post-Season 7 episode to have this feature. A few example errors include:

Arthur's mother is first referred to as "ARne)."
When static appears, the captions read "This phoneis [sic] not good. (static buzzing)"
D.W. suggests putting Arthur on a diet. The captions "We will notlet Arthur eat.I must eat!" [sic] appear.

Bo tells Buster to point his camcorder out the window to get a shot of the plane taking off. However, FAA regulations at the time required that personal electronic devices be turned off during taxi, takeoff and landing.
Free on-demand episode courtesy of
PBS (Kids Thirteen)
Gallery
Promotional images
Screenshots
References