Spider-Man: No Way Home Trailer Dropped - The Loop
Play Sound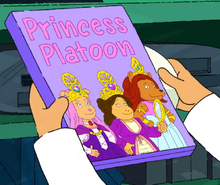 Princess Platoon is a series of movies about a group of princesses. D.W. and Emily both like to watch them, and they admire the princesses who appear in the movies. The series is heavily merchandised with numerous Princess Platoon-branded products, like a collector's lunchbox. Hana is also a fan of the franchise.[1][2]
Princesses
Princess Perky: She wears the "abra-tiara" which helps her rule the kingdom, protects all animals, and keeps her hair "just so". There is Princess Perky bubble bath and a Princess Perky doll with a pull-string that makes her say "There's a princess for everyone! Fun-believable!"

Princess Proper

: She has a magic hand mirror.

Princess Peppy

: She has a magic wish wand.

Princess Prancia

: She is a centaur with long red hair.

Princess Penguin

: Only mentioned.
Princess Penny: She is part of the "Mice on Ice Show" in "The Good, The Bad, and The Binky." Her arch-enemy is the rat ogre. Emily has a Princess Penny doll.
In "The Princess Problem," when D.W. goes to Emily's house to play with Princess Platoon toys, a Princess Sneeze-and-Wet doll is seen, though it is unknown if it's also part of the Princess Platoon series.
Along with Lydia, they create two new princesses to become part of the platoon.
Princess Ana

: Based on the book Ana de Mendoza. She is half-blind after losing an eye in a sword-fighting duel. She tried to overthrow a bad king, and had to hide as a nun.

Princess Prophecia

: Princess of the future.
Movies
The only known movie title is Princess Perky and the Tower of Trolls. In the movie, Princess Perky is trapped in a tower by two trolls, who are trying to take her tiara. Her only way to escape is to make a rainbow using the tiara.
This movie is D.W.'s favorite of the series. She knows the song that Princess Perky sings by heart.
Is it a curse? Is it bad luck?
This perky princess keeps getting stuck
Captured by villains who want my tiara with powers
(Hey, wait! You're a magical crown.)
I'll make a rainbow so I can slide down
So maybe one day I will learn to steer clear of towers

References
↑ "Princess Platoon was fierce! For a year, I only wore princess dresses. I got this scar from sleeping in my tiara." — Hana to D.W. Read, "D.W.'s New Best Friend"