Queen for a Day is the third book in Arthur's Family Values, a series of Arthur book titles aimed specifically at teaching morals. The moral of the book is "Everyone Is Special." The book was written by Nancy Parent and illustrated by Judy Nelson.
Publisher's summary
When Muffy is crowned Elwood City's "Queen," Arthur insists that she treat all her friends royally.
Synopsis
When Mayor Hirsch announces Muffy Crosswire as the winner of a school contest, Muffy is excited as it also means that she'll get to ride on a float as Queen of Elwood City in the "City Pride" Parade. Muffy invites all of her friends to come for talent presentations, but assigns Francine the role of singing a song. But when she kicks Francine out for not being a good singer, everyone threatens to quit unless everyone can be included.
Plot summary
During a ceremony at Lakewood Elementary, Mayor Hirsch and Principal Haney announce Muffy as the winner of a school essay contest. She is crowned and she calls it a surprise even though she had been hoping to win. Bitzi Baxter takes her picture for the Elwood City Times. After school, Muffy and her friends gather and she tells them that she has to plan her float and is inviting them to meet her at her place on Saturday for talent presentations. Francine starts to suggest something that she could perform, but Muffy tells her that as her best friend, she wants her to a sing a tribute song to herself that she wrote.
The time comes for the presentations. Prunella appears in a long pink gown designed by her sister. Muffy likes it and says that Prunella will be her Lady-in-Waiting. Binky does a juggling act and Muffy quickly declares him in. Buster tells some jokes and Muffy says that he can be her master of ceremonies if he promises not to tell any jokes. Fern reads an original poem and Muffy says that she can write a poem in honor of her to perform, with Arthur accompanying by playing music. Brain shows Muffy a design for a parade float which wins her approval.
The time comes for Francine to sing the song Muffy wrote for her. Francine starts to say that she "tried to" learn it, but when Francine sings, it comes out awful. Muffy tells her that if she can't sing, she can't be on the float. Shocked at this behavior from her best friend, Francine storms out, saying that she doesn't want to be on the float anyway. Arthur tells Muffy that she should apologize, but Muffy just crosses her arms and says that Francine is too sensitive.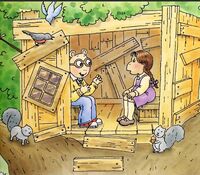 Outside of Muffy's, Arthur talks with his friends, who agree that Muffy is out of control. Arthur says that if Muffy thinks she's so special, she can ride on the float by herself. The next day, nobody shows up for the first rehearsal and Muffy, annoyed, goes to her father asking him to hire a professional crew. He agrees to do what his "Cupcake" wants, but after he meets with the parade organizers finds that what Muffy wants isn't allowed under the parade rules. Chastened, she goes to Arthur, who tells her that they're still willing to ride with her if she would just be nicer and agree to let Francine ride with her. Muffy replies that she can't sing and Arthur tells her to just think of something else that she can do, as everyone is good at different things. Imagining herself alone on an empty float, Muffy agrees to give Arthur's idea a try.
While leaving Arthur's place, Muffy encounters D.W., who is happily twirling a baton in the driveway of the Read household. She laments that it would great if only Francine could twirl a baton like her, but D.W. tells her that it was actually Francine who taught her how to twirl so well. Happy, Muffy says that she has to go find Francine.
Muffy finds Francine coming out of the Sugar Bowl. At first, Francine doesn't seem to want to talk to her, but Muffy tells her she thought of something she could do on the float. She says that she could twirl the baton and Francine perks up and agrees, saying that she loves to twirl. Muffy says there's one more thing: she can twirl the baton, but no singing. Everyone laughs.
Characters
External links
Community content is available under
CC-BY-SA
unless otherwise noted.