Doctor Strange in The Multiverse o Madness - The Loop
Play Sound

Season 20 of Arthur premiered on PBS on October 10, 2016[1][2] with "Buster's Second Chance/Arthur and the Whole Truth" and concluded on June 1, 2017, with "The Hallway Minotaur/Ladonna's Like List". It is the first to have only seven episodes.
WGBH signed an agreement with Oasis Animation to animate both Season 20 and Season 21,[3] instead of 9 Story Media Group. Production began on September 9, 2015.[3] All work was completed as of December 2016.[4] Together with Season 21, there is a total of fourteen 30-minute episodes. There are also two 1-hour specials that are not considered part of either season:[3] Arthur: D.W. and the Beastly Birthday (May 29, 2017)[5] and Arthur and the Haunted Tree House (October 23, 2017).[6][7]
Christian Distefano is the new voice of D.W.,[8] replacing Andrew Dayton. Distefano previously voiced James in Season 18. Jacob Ursomarzo replaces William Healy as Arthur. Jacob Ewaniuk and Jake Sim are replaced by Devan Cohen and Samuel Faraci as Timmy and Tommy Tibble.
From this season onwards, the animation duties were handed to Toon Boom Animation after use of Adobe Flash.
Episodes
Picture
Title
Number
Episode
Original Airdate
"Buster's Second Chance"[9]
226
1a
October 10, 2016[1]
Buster turns back the clock to see what life would be like if he were a genius.[10][11]
"Arthur and the Whole Truth"[9]
226
1b
October 10, 2016[1]
Arthur finds out Buster has been lying to protect his feelings.[10][11]
"Fern's Flights of Fancy"[12]
227
2a
October 11, 2016[13]
Fern considers giving up being a writer after a rejection.[14]
"Cereal"[12]
227
2b
October 11, 2016[13]
Buster relays the story of a missing cereal box on his podcast.[14]
"He Said, He Said"[15]
228
3a
October 12, 2016[16]
When an episode of Bionic Bunny is interrupted, Carl is the only one who can recall what comes next.[17]
"Bunny Trouble"[15]
228
3b
October 12, 2016[16]
Larry, the class bunny, wanders off.[17]
"Bud's Knotty Problem"[18]
229
4a
October 13, 2016[19]
Bud falls in love with his new pair of boots, but must learn to tie his shoes.[20]
"That's MY Grandma!"[18]
229
4b
October 13, 2016[19]
D.W. is jealous when Grandma Thora becomes the town's most popular babysitter.[20]
"Lend Me Your Ear"
230
5a[21]
May 30, 2017[22]
Arthur, Buster, and Alan are worried when Mr. Ratburn isn't acting like himself. He's always pleased to see them...so what has made him change his tune?
"The Butler Did It"
230
5b[21]
May 30, 2017[22]
When Mr. Crosswire gets a robot butler for Father's Day, Muffy fears Bailey may be replaced.
"Prunella's Tent of Portent"
231
6a[23]
May 31, 2017[24]
At the Elwood City Picnic, Prunella pretends she can see the future at her fortune telling booth. But her best friend, Marina, doubts her mystical powers.
"Mutiny on the Pitch"
231
6b[23]
May 31, 2017[24]
The Lakewood Elementary soccer team has had enough of Francine's bossy behavior. To show the team how much they need her, she gives up her post to the most unlikely teammate...Buster!
"The Hallway Minotaur"
232
7a[25]
June 1, 2017[25]
Attention Lakewood Elementary! There's a new sheriff, er, hallway monitor in town and his name is George Lundgren.
"Ladonna's Like List"
232
7b[25]
June 1, 2017[25]
Ladonna is friendly, funny, and full of personality. Everyone likes her! At least, that's what she thought...
Gallery
Promotional images
Leg 1
Leg 2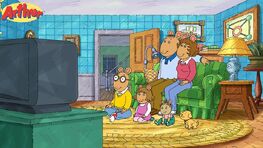 Get the family together! A week of all new ARTHUR begins Monday, May 29 on (check local listings)! [35]
Videos
References
↑ 2.0 2.1 ""What A Wonderful Kind Of Day!" WGBH Celebrates 20th Anniversary Of Family Favorite "Arthur" On PBS Kids". PR Newswire. September 19, 2016. Retrieved September 19, 2016. (archived page; September 20, 2016)
↑ 3.0 3.1 3.2 Wolfe, Jennifer (September 29, 2015). "Oasis Animation Tapped for New Seasons of 'Arthur'". Animation World Network. Retrieved September 30, 2015. (archived page; retrieved October 1, 2015)
↑ https://web.archive.org/web/20161223135843/http://oasisanimation.com/en-us/Productions/Arthur Retrieved January 17, 2017.
↑ http://pressroom.pbs.org/Home/PBS%20Kids/PBS%20KIDS%20Channel.aspx see the "PBS KIDS Family Night Program Descriptions". Retrieved January 19, 2017.
↑ Milligan, Mercedes (January 15, 2017). "24/7 PBS KIDS Channel Launches Across US." Animation Magazine. Retrieved January 17, 2017.
↑ Distefano, Christian (April 20, 2016). "Its been a fun season voicing DW on @wgbh #Arthur Season 20 !!!!." Twitter. Retrieved May 13, 2016.
↑ 11.0 11.1 http://tvlistings.zap2it.com/tv/arthur-busters-second-chance-arthur-and-the-whole-truth/EP000441070803?aid=zap2it
↑ 14.0 14.1 http://tvlistings.zap2it.com/tv/arthur-ferns-flights-of-fancy-cereal/EP000441070804?aid=zap2it
↑ 17.0 17.1 http://tvlistings.zap2it.com/tv/arthur-he-said-he-said-bunny-trouble/EP000441070805?aid=zap2it
↑ 20.0 20.1 http://tvlistings.zap2it.com/tv/arthur-buds-knotty-problem-thats-my-grandma/EP000441070806?aid=zap2it
↑ 24.0 24.1 http://schedule.wttw.com/episodes/387939/Arthur/Prunellas-Tent-of-Portent/Mutiny-on-the-Pitch/
↑ https://www.facebook.com/PBSArthur/photos/a.501573345202.387485.43562115202/10157478299395203/?type=3&theater
↑ https://www.facebook.com/PBSArthur/photos/a.501573345202.387485.43562115202/10157489967720203/?type=3&permPage=1
↑ https://www.facebook.com/PBSArthur/photos/a.501573345202.387485.43562115202/10157536214710203/?type=3
↑ https://www.facebook.com/PBSArthur/photos/a.501573345202.387485.43562115202/10157544590520203/?type=3
↑ https://www.facebook.com/PBSArthur/photos/a.501573345202.387485.43562115202/10157543041500203/?type=3
↑ https://www.facebook.com/PBSArthur/photos/a.501573345202.387485.43562115202/10157552976775203/?type=3
↑ https://www.facebook.com/PBSArthur/photos/a.501573345202.387485.43562115202/10157572558610203/?type=3&theater
↑ https://www.facebook.com/PBSArthur/photos/a.501573345202.387485.43562115202/10157581985965203/?type=3