Sir Arthur to the Rescue is the sixth book in Arthur's Family Values, a series of Arthur book titles aimed specifically at teaching morals. The moral of the book is "Helping a Friend in Need." The book was written by Sheryl Burk and illustrated by Judy Nelson & Kurt Heli.
Publisher's summary
When Buster gets stage fright, Arthur comes to the rescue just in time!
Synopsis
When the Elwood City Children's Theater holds auditions for a play of the story of King Arthur, Arthur, Binky, Buster, Muffy and Prunella all think it's a great idea and decide to audition. Arthur hopes for the part of King Arthur, but is instead cast as a stable boy with the role of King Arthur going to Buster. Buster soon gets a big head, acting as if he is actually royalty, demanding a special chair and giving autographs. When the time comes for the play, however, Buster gets a bad case of stage fright and it is up to Arthur to help his friend.
Plot summary
Arthur and his friends spot a sign that announces that the Elwood City Children's Theater is holding auditions for a play of the story of King Arthur. Muffy says that she'd like to be Queen Guinevere, while Arthur, naturally, would like the role of King Arthur. Buster, meanwhile, thinks that he'd like to be a palace guard. They, as well as Binky and Prunella, all come to audition for the play under the show's director Ivanna Starr, a legendary soap opera actress. Arthur is the first to read, but flubs his line, saying that he is the "ruler of Cantaloupe," rather than "Camelot."
When the cast list is posted, Arthur is disappointed, as he's been cast in the role of a stable boy, rather than that of King Arthur, which has gone to Buster. Muffy is Guinevere, Binky is a knight and Prunella is a lady-in-waiting. Ivanna reminds Arthur that "there are no small parts, only small actors." On the whole, rehearsals do not go well starting out. Muffy dislikes her gown and Binky can barely walk in his armor. Only Buster seems to be enthusiastic about his role, happily pulling a fake sword out of a stone. In fact, Buster soon starts letting his role get to his head, telling people to "make way," getting his own personal chair with his name on it and handing out autographs.
Binky asks Buster what's wrong with him and Buster says that he's jealous that he's playing King Arthur and not him. Softly, off to the side, Arthur sadly says that he liked him better as just Buster. Buster has a bad rehearsal that evening, causing Starr to say that he needs to learn his lines. He promises he'll be ready by the time of the play. When the play comes around, though, and the curtain rises, Buster just stands shocked. He has a bad case of stage fright. Starr throws a fit, demanding for someone to do something. Arthur feeds Buster lines and whispers for him to calm down and slowly Buster starts to relax. He claims the sword Excalibur from the stone and becomes king.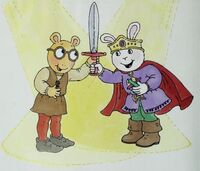 The audience cheers wildly at the end of the play and everyone gives Buster a standing ovation. Buster pulls Arthur on-stage and Buster tells him to take a bow, saying that he deserves it. As the two raise the sword Excalibur hand-in-hand, Buster whispers thanks to Arthur for saving him and Arthur whispers that's what best friends are for.
Characters
External links
Community content is available under
CC-BY-SA
unless otherwise noted.