The Adventures of Zut Zut is a comic book series seen in "Fernfern and the Secret of Moose Mountain." Each book costs $7.95. 
Influcences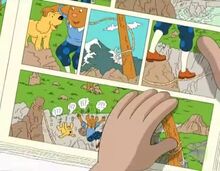 The books influences Fern at the beginning of the episode. Fern refers to the book series many times when she and Francine come across many obstacles when hiking at Moose Mountain. She tries to use the books as an aid, but discovers later on how she cannot perform the same acts as Zut Zut. She compares herself to Zut Zut in the episode, and compares Francine to the commander. She portrays Francine as the antagonist, and it is not until when Francine saves Fern that she realizes that they must work together.
Known Characters
Known Books in Collection
Temple of the Condor
The Jade Crocodile
The Sapphire Gobblet
The Pearl Palace
Zut Zut and the Cajun Queen 
Zut Zut and the Jinxed Jungle
Parts of the books
In The Jade Crocodile, Fern mentions how Zut Zut uses a stream to ultimately find a lost subterranean city of gold.
In The Sapphire Gobblet Zut Zut gets marooned on an island of man-eating tortoises. 
In The Pearl Palace Zut Zut crosses a rope bridge—an aspect which Fern uses to compare their hike to.
In Zut Zut and the Cajun Queen, Zut Zut finds wood, builds a catapult, and flings himself across a swamp. 
In Zut Zut and the Jinxed Jungle, Zut Zut finds out which way is north by checking to see which side of the tree has more moss.
Trivia
Community content is available under
CC-BY-SA
unless otherwise noted.