Wiki Targeted (Entertainment)
Play Sound
"The Long Road Home"
Season/Series:
14
Number in season:
10b
Original Airdate:
April 28, 2011[1]
September 22, 2011[3]
January 13, 2011[2]
March 27, 2013[4]

Credits
Written by:
Peter K. Hirsch
Storyboard by:
Louis Piché

Episodes

Previous
"Buster Spaces Out"
Next
"Fifteen"
"The Long Road Home" is the second half of the tenth episode in the fourteenth season of Arthur.
Summary
George prepares to walk from Crown City to Elwood City to prove he isn't a quitter. Meanwhile, Arthur plans to give back El Boomerang to Alberto for his birthday, but it gets lost... again!
Plot
The episode begins in Istanbul, Turkey, with Arthur's pen pal, Adil, walking down the street when an object falls in front of him. It is revealed to be a soccer ball, and Adil wonders how it came to be there. That night, he contacts Arthur via computer and mentions that something like a soccer ball fell out of the sky.
Adil also mentions that the ball has the signature "El Boomerang" written on it. This surprises Arthur, since his next-door neighbor and friend Alberto lost a soccer ball signed by El Boomerang. Arthur asks Adil a favor, and Arthur is later seen receiving a package from the mailman.
Alberto goes to Arthur's house to deliver a party invitation, and when Arthur sees him, he says that he has something to give Alberto. Alberto wonders if it is the package from Adil, but Arthur says that it is a comic book. Arthur heads back indoors, saying this will be the best birthday gift ever.
The Long Road Home
There is a track race at Lakewood Elementary. It starts with Francine, then Jenna, then Sue Ellen, then finally on to George. When it is George's turn, he is outrun by his opponent, making his team lose. Francine insults George, saying he gave up, making him outraged.
Buster and Arthur are seen at the Sugar Bowl, talking about the soccer ball, saying its exactly the same ball when Brain examined it. But they wonder how the ball would go all the way to Turkey. Buster gives a long, wrong answer, discouraging Arthur.
George arrives at the restaurant, running, which is unusual to Buster, thinking he hated running. George says he needed practice when Arthur offers his water. After drinking, he says he feels bad about losing the race and says he's just slow.
They understand, and Buster told him about his uncle walking everywhere, including a journey from Crown City back the Elwood City, amazing George, and saying that it took him seven hours before spraining his ankle and had to stop. George is then encouraged about this and when Arthur says he doesn't know anyone who took the walk since then.
Back at school, Francine teases George about the walk, saying that it will take a gazillion hours! George objects, mentioning that it will take longer via back roads and bike paths. He then takes out a sponsors sheet. He says he's raising a dollar for every hour he walks for Autism Research.
After writing her name down, Francine still taunts him about it, make him extremely furious. Mr. Ratburn also writes down his name, after George shortly tells him about it. He continues to practice and practice while getting more and more sponsors like Binky, Mrs.MacGrady, Brain, and Sue Ellen.
Muffy offers as well if he will carry a Crosswire Motors balloon, advertising the company, making George walk off. Arthur dreams about giving Alberto his gift, but in the night, it gets lost again!
On the big day, George sees the weather acting up, since its raining! He drives down to the city hall, when it's shiny again, but to his surprise, sees Mr. Ratburn. George says he misunderstood, since he only asked to sponsor him, not walk with him. But they just go along with it.
As they walk, Mr. Ratburn entertains them with stories and George doesn't want to stop. At the party, Alberto gets a Comic book from Arthur, saying it wasn't the gift. George and the others make it through the forest and keep going. Buster and Bitzi meet him and say that they're two-thirds of the way there. George tells him he owes him $8.27, making Buster joke for George to stop now, discouraging him.
Arthur, while eating the birthday cake, is told by Alberto that some kid is walking from Crown City to Elwood City. Arthur realizes it's George! Arthur, Alberto, and many other friends like Brain, Sue Ellen, Muffy, and Francine wait at Main Street for his arrival. While he's walking, Mr. Ratburn notices the clock tower, relieved that the walk's almost over, before hitting his leg on a tree root, twisting his ankle.
George, at that point, stops for the others. Back on Main Street, everyone waits, when Francine notices George coming down the street. He asks his dad to take his backpack for the final leg. Everyone is excited to see him. He then kicks El Boomerang, flying into Alberto's hand, shocked to see it return.
While George is resting, Francine apologizes and then congratulates him on the courage, perseverance, and bravery, apologizes to him, and gives George the money. Arthur says that the soccer ball was the gift and says Happy Birthday to Alberto.
While everyone goes, Alberto pats Arthur on the back, saying that he is a good friend. The episode finishes with Mr. Ratburn on crutches with George's Dad supervising him on their way to George, who accomplished his dream that came true.
Characters
Major
Minor
Cameo
Songs
Trivia
Episode connections
Buster correctly describes El Boomerang's journey in "Follow the Bouncing Ball" (North America), "Buster Baxter & the Letter from the Sea" (North America), "Around the World in 11 Minutes" (China), "Muffy and the Big Bad Blog" (South America), "Arthur Unravels" (Europe, Russia), "All the Rage" (Europe, Italy), "D.W., Queen of the Comeback" (India), "In My Africa" (Africa), and "Buster Spaces Out" (Space). Arthur does not believe him.
A CyberToy from "Nerves of Steal" appears in this episode.
Mr. Ratburn also twists his ankle in the computer game Arthur's Camping Adventure.
Cultural references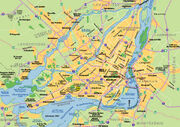 The map of Elwood City and Crown City could be a reference to the map of Montreal.
Errors
The episode takes place during the summer since Alberto's birthday is shown on the 26th of July, but the kids are shown in school, when they should technically be on summer vacation.
Production notes
This is the final episode to be aired in Germany.
Gallery
Main article: The Long Road Home/Gallery
References