The Muffy Club Headquarters
[[File:

|250px]]
Information
First Appeared
Last Appeared
The Muffy Club Headquarters was a clubhouse that Muffy Crosswire built in My Club Rules to hold meetings of the Muffy Club. It also appeared in Francine's Cleats of Strength.
Location
The Clubhouse is located to the left of the Swimming Pool on the Crosswire Estate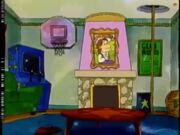 Interior
The clubhouse held host to a number of luxurious gadgets including a TV & a arcade game machine plus many other fun items including a basketball hoop, a pole and a fireplace that changes into a microwave and a mini fridge!
The Muffy Club
The Clubhouse was built for the Muffy Club which was created after Muffy and Francine got bored of Arthur's Tree House and decided to make their own club. Originally Buster Baxter was going to join The Muffy Club, but he couldn't afford to pay two dollars to join, so he was refused entry to the clubhouse. Francine was also kicked out of the club after not turning up for one of the club meetings. The Muffy Club was short lived only lasting a few days and after a while Muffy returned to Arthur's Treehouse with the rest of her friends.
Community content is available under
CC-BY-SA
unless otherwise noted.