"Unknown Male Adult Rabbit (Number 3)" is not an official name.
Unknown Male Adult Rabbit is an unnamed character who makes his first appearance in the episode "D.W. All Wet." He is the father of Unknown Male Rabbit and Maria lookalike and is friends with the Read family. He also has a wife who is seen with him often.
In his debut, he is seen at Bear Lake with his family. He and his entire family have made many appearances throughout the series, though he has only spoken a few times.
Physical appearance
His usual appearance consists of purple pants, a white shirt with a collar and buttons, and light blue shoes. He has taupe-colored hair and a tan complexion.
In "Cents-less," his attire is changed. He now wears long blue jeans, has a watch, and wears black shoes.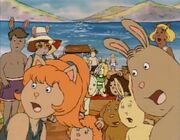 In his debut episode, he wears purple swim trunks. For formal occasions, he wears a black suit.
Personality
Like most background characters, not much is known about him. He does not speak often, but he is kind to his family.
Trivia
This character along with his family has made more appearances than any other unknown family throughout the series.
He only has speaking roles in "Arthur's Family Vacation" and "1001 Dads."
He has no known appearances during the Flash era (Season 16 and later).
Appearances
Arthur
Specials
Season 1
Season 2
Season 3
Season 4
Season 5
Season 7
Season 8
Season 9
Season 10
Season 11
Season 12
Season 13
Season 14
Season 15
Postcards from Buster
Gallery
References