Hello, Hi, Hey!
Was that an interesting enough beginning? Did it catch your attention? Probably not. Well, I'd mostly describe myself as someone who's in love with Arthur. It's a show that always makes me happy. I love it so much :D In fact, sometimes my friends say that I'm obsessed with it :s The fact that the main characters can still remain such great friends despite their faults, is a major reason as to why I like this show. There's also the humour for sure. My favourite characters would probably be Brain , Arthur , and Buster.
Currently Working On
Title Cards- Adding extra details to linked episodes, adding pictures, fixing up grammar + spelling mistakes, re-wording sentences. (I've been very excited to work on this! Heh :) *This is one that I will work on over a period of time.
Character Tables/Charts.
Pages Made (Normally I don't make pages)
Through the Looking Glasses/Gallery
| | |
| --- | --- |
| | This user tries to keep the Arthur Wiki free of vandalism. |
My Favourite Arthur Episodes :)
I'll be listing my favourite ones as I watch them again. And if I remember!
-drumroll-
Well, one episode I completely loove is Desk Wars!! The name itself just shrieks out importance! Just kidding. That is so dramatic. Ahahahaha, but I do love this episode :) It's an amazing example of the domino effect, and it's so sweet how Sue Ellen cared for George's gum creation and how George influenced (without even trying to) others into being better people...or..animals... -ahem- Ahh. Great episode overall :D
Favourite Quotes from this Episode:
Francine: "Hey, we should have an argument, Ratburn'll split us up, and then one of us will get to sit at Brain's desk!"
Arthur: "But I like my desk"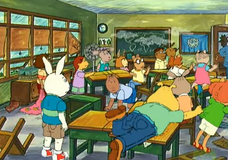 Buster: "C'mon Arthur, have an argument with us!"
Arthur: "I don't want to have an argument with you!"
Ratburn: "Arthur, Buster, I warned you. Now Arthur, go sit at Alan's desk."
Community content is available under
CC-BY-SA
unless otherwise noted.