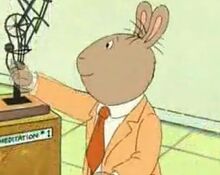 I'm back
Hello ya'll. Some of you might remember me. I haven't been active the last couple months as I was abroad and couldn't access this website. At one point I was an administrator, and I hope that my credentials will be reinstated.
About me
When it comes to Arthur, I'm a psycho/maniac/madman. I love details and information, as you can see from one of the pages I created. I like quotes as well. I love Iowa Hawkeyes Football.
I am also one of the oldest editors to Arthur Wiki still around, with the exception of LukePhiladelphia.
I live in the middle of nowhere, so getting a TV station with Arthur is hard. I do most of my research from episodes uploaded on YouTube.
My favorite characters are the ones who rarely speak, like the one in the picture on the right. They communicate through their actions, not their words.
Please realize that I have school and homework comes before Arthur Wiki. I may not be able to reply to your messages as soon as you might like.
Ambitions
Finish all the episode pages (Yes, I know seasons 6-9 can be tedious due to the amount of less than satisfactory episodes)
Favorite/Least Favorite Arthur Episode
I like pretty much every Arthur episode. But there's one that perturbs me.
To be honest, it would have to be Buenas Noche, Vicita. I never really liked the character of Vicita, and the fact that nothing really happens in the episode. I cringe when I watch Vicita's dream. Yeah. Not my favorite episode.
My favorite episode may be Desk Wars. True, it came from the notorious Season 8, but I love how one thing leads to another, and in the end, George suffers the pandemonium caused by the others.
Here's my top ten list:
Community content is available under
CC-BY-SA
unless otherwise noted.