Hello
some recent pages I made
1# Ian Finlay
3# Rats
6# Pa-Kanong Creature With The Big Face
some characters
Lily Hogan is a 8 year old that attends Estabrook elementary in mid southern Elwood city. She a bear.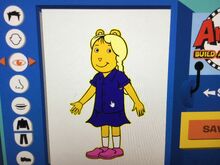 She into girly stuff but likes to play soccer and wants to play in the soccer team. She has a younger brother named Elijah who's 3. She lives on the 2 floor of apartment just 11 blocks from her school. Lily lives with her parents and her younger brother. She wants to be a soccer player when she grows up. She is friends with Francine but are in different schools. Her father Todd Hogan works for real state. The same one Fern's Mom works at. And mother Jacqueline Née Hayes Hogan stays home with Lily and Elijah. Her last name is Irish and comes from Irish descent. That's lily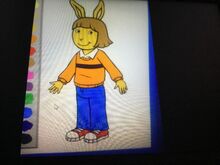 Gavin Weisz is a 8 year old that attends Lakewood Elementary School. He doesn't attend Mr. Ratburn, Ms. Sweetwater or Mrs. Fink class. He attended Mrs. Young's class. She doesn't appear on the show. He's a Aardvark but has a rabbits nose. Gavin is nice but can be spoiled sometime. He's a only Child. He lives two house behind Arthur and knows him. He also 3 house from Alberto. Gavin likes to play video games in his spare time. Especially his 3DS. Both his parents work. His father William Weisz works in a office building. His mother Jessica Neé Johnston Weisz is a cashier for a target. His mother works for 8-3. And his father works for 7-6. His last name is German Jewis. Even though his not Jewish. But is German. That's Gavin
Amelia Emerson is a 8 year old that attends Mighty Mountain. She in Mr. Brown class. She's a rabbit. She lives in west Elwood city. She a bit silly but fun to be Around. Her favorite thing to do is play with her friends. She lives on 315 lumber road. She also likes things that are hip. And she loves memes. She likes spongebob. Amelia has a older brother Evan Emerson who's 13 and a younger sister Serenity Emerson, 6 and younger brother Oliver Emerson, 4. Her parents Matthew and Rebecca both work at packing. They work for a long time sometimes and her paternal grandmother Teresa takes care of them. She also lives with them. That's Amelia.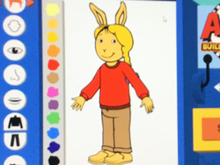 Alexis Ison is a 3rd grader that lives in Modville. Modville is a village that's north of Elwood city. She attends Modville elementary. Since Modville doesn't have a middle school or high schoo. She would attended North Elwood City Middle School and Elwood City High School. She a rabbit. She was born in Louisville, Kentucky. She is fun to be around. She lives by the border of Modville and Elwood City. She lives with her parents Jonathan and Melissa and older brother aiden who's ten. Each Summer Alexis goes to louiville to visit family. She also easygoing and is barely worried. That's Alexis.
Hunter Sutton is a 3rd Grader in Lakewood Elementary School. Like Gavin he attendes mrs. Young class. Also there best friends. He also a Aardvark. he kinda looks him but are not related. Hunter is a bit timid but can be outgoing. He lives on the 2nd floor on Westboro Apartments the same apartment that Francine lives in. He lives with his mom and dad. And younger brother Henry who's 2. He 1 floor below Francine he lives on room 210. There's 15 rooms on each floo. Francine lives on 304. Herny attended at a 2-3 class in Elwood City Community Preschool. Along with Vicita Molina. Hunter likes play with him but he does think he annoyin. That's Hunter.
Community content is available under
CC-BY-SA
unless otherwise noted.