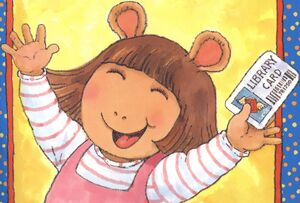 I've been a fan of Arthur since around the time of Arthur's Perfect Christmas and have usually been involved with the Arthur fan community in some way or another ever since. If you've seen my edits, then it probably wouldn't be hard for you to guess that my favorite character is D.W.. I love the little tike, tantrums and all, though I am a fan of the stories that show her more tender moments, as well as those that show her getting along with / working together with Arthur.
At one time, I was a manager of the Arthur Group on Yahoo, now sadly defunct. You can also find examples of my work at the also now defunct Elwood City Downtown Core, as either George4Browne or Agent0042. One of the highlights of my fandom was meeting show executive producer Carol Greenwald at a meeting held at my local library many years ago.
Other than D.W. stuff, I've worked a lot here on song lyrics and have now completed everything for the album releases that wasn't already posted. I've also done some transcripts. Lately I've also been working on the books in the Arthur's Family Values series.
If I'm not here and I'm on Wikia at the moment, you can probably find me over on Wookieepedia.
Arthur merchandise I own

18" Nancy Sales Co. Arthur plush holding pink rabbit
14" Eden D.W. plush with blue jacket, pink rose buttons and pink purse
9" Kids Preferred D.W. plush
Playskool Dress Me Arthur plush
Playskool Dress Me D.W. plush in original box
"D.W.'s Silly Dream" personalized pillowcase from the online PBSKids shop
Eden plush 1999 limited edition bean bags of Arthur, D.W. and Baby Kate
Library bookholder featuring D.W.
Library bookholder featuring Arthur
Library bookholder featuring Buster (This is the only one that still has the part that actually holds the books.)
Library poster reading "Library Kids Flip Over Books"
Library poster reading "Arthur's Adventures Begin on PBS," from around the time the show premiered
Media