This is your user page. Edit this page to tell the community on the Arthur Wiki about yourself.
My name is William.  I've visited Wikia less than two years ago starting with Arthur, and just joined this website today with the Username WillTheArthurandBusterFan5050, and believe me, coming up with that user name was not easy, although now I wish I'd picked another username because even though Arthur and Buster are two most favorite characters in the series Arthur, they're not my most favorite cartoon characters in the world, actually Timmy Turner from Failry Odd Parents is.  I don't know if I'll keep this username or change it later if it's possible.
These are my accounts on other websites:
My Deviant Art Account: http://willm3luvtrains.deviantart.com/
These are some other Wikias I go to:
Arthur High School Years Wikia (Arthur fandom Wikia): http://arthur-in-high-school.wikia.com/wiki/Arthur%27s_High_School_Years_Wiki
Maya and Miguel Wikia: http://mayaandmiguel.wikia.com/wiki/Maya_and_Miguel_Wiki
Super Why Wikia: http://superwhybettersite.wikia.com/wiki/Super_Why!_Wiki
Martha Speaks Wikia:
☀http://marthaspeaks.wikia.com/wiki/Martha_Speaks_Wiki,_The_Free-Dog_Encyclopedia
☀http://martha-speaks.wikia.com/wiki/Martha_Speaks_Wiki,_The_Free-Dog_Encyclopedia
Curious George Wikia:
☀http://curiousgeorge.wikia.com/wiki/Curious_George_Wiki
☀http://curious-george.wikia.com/wiki/Curious_George_Wiki
As of this week (October 10, 2017, I am no longer part of fanfiction.net)
More will be added later
A little more about me, I live in Tucson, Arizona, I'm Jehovah's Witness, politically neutral, and have Asperger's Syndrome.  I'm not very social and don't like to interact with others very much and don't have very many interests.
I like animated shows more than live-action shows and several of my favorite cartoons besides Fairly Odd Parents and Arthur are Kim Possible (seasons 1-3 only,) Jimmy Neutron, Braceface, Maya and Miguel, Super Why, Bubble Guppies, Underdog, Calliou, Franklin (the 2D series), Rugrats All Grown Up, 64 Zoo Lane, SpongeBob Squarepants, Krypto the Superdog, Fillmore, Corniel and Bernie, The Weekenders, 6teen, My Dad the Rock Star, Rocko's Modern Life, Guess How Much I Love You, and Lloyd in Space, even though I haven't watched a lot of these shows in a long time.  Even though I'm almost in my 30s, I like to watch cartoons, even Nick Jr. and Disney Jr. cartoons and P.B.S. Sprout Cartoons.
My other interests are trains and railroad crossings, especially railroad crossings with flashing red lights and red and white striped gates, and gates mounted with red lights on them.  I especially favor American railroad crossing signals, but I do like the ones in Canada, Australia, Argentina, some in the Netherlands, and not quite as much, but the ones in Germany too, where I've lived twice.
This is all I'll share about myself, except for this, I'm glad to have a place to finally express myself and my opinons about TV shows, and to be part of Wikia, even offer suggestions and ideas like I did on the Arthur Page.
Oh, for my safety and privacy, I am not incluing my whole real name or giving my contact information, including my email address unless it's for business purposes so please do not ask for my contact information.
ADDED FEBRUARY 23, 2020: I am now on Grifkuba and this ismy user page there https://arthurwiki.com/wiki/User:BusterAndCarlRulz5050 but I'll still be on this website!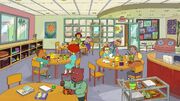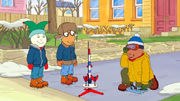 ==My favorite pages==
Community content is available under
CC-BY-SA
unless otherwise noted.