April 13, 2020
Hey, everyone! This is Arthur Read fan, an admin of Arthur Wiki.
I am absolutely thrilled to be rebooting the wiki newsletter, which was formerly known as The Elwood City Times. I will go into a retrospective on The Elwood City Times, but that's not the main reason why I'm here today. I'm also here to let everyone know about some other things, most notably about the UCP (which stands for the Unified Community Platform), which FANDOM is launching. I will explain more about the UCP later in this issue, but first, I'd like to share the history of the Arthur Wiki's newsletter with all of you.
The wiki's newsletter was first launched in December 2011 by Annawantimes, a former admin here. It was known as "The Elwood City Times," and it served as a way for admins to let other users know about changes to the wiki, info about upcoming events (including new Arthur episode releases), and it also had a poll in each issue.
After three issues went by, the newsletter went on a hiatus. During this time, among other changes, Annawantimes stepped down as an administrator from here on April 14, 2012.
The wiki newsletter was eventually restarted again in August 2012 by another (now-former) admin, Muppetfan. This run, however, was short-lived, as it only ran for two issues between August-September 2012. Muppetfan stepped down as an admin in late November 2012, and the wiki has sadly not seen a newsletter since then... at least, until now!
And that is this issue's retrospective. I hope you enjoyed it!
So, what's the UCP all about?
All right, now I'm going to talk about the UCP.
As I said earlier in the newsletter, the UCP stands for the Unified Community Platform. The goal that FANDOM is aiming for with the UCP is to unite and unify the communities of FANDOM / Wikia and Gamepedia (which is owned by FANDOM) on a new platform. The new platform is MediaWiki 1.33, replacing the current platform which has been used for several years, which is MediaWiki 1.19. MediaWiki 1.33 is newer than 1.19 by seven years, and the newer platform will also allow for further customization for wikis.
Since March 11, 2020, all new wikis created at FANDOM / Wikia use this new platform, and soon, all wikis (including this one) will be moved over to the new platform. Exact timing for when Arthur Wiki moves to the UCP is still to be announced, but I will let everyone here know about when the move will happen as soon as I find out from FANDOM staff.
There are also going to be some changes made when Arthur Wiki moves to the UCP. I will list some of the changes below:
There will be a new version of the Source / Visual editor, as part of the move to MediaWiki 1.33. The new editor may take some getting used to, since the layout of it is somewhat different from the current editor. It's not TOO different from the current editor, though, so don't worry; it still has all of the editing options that the current editor has to offer. Things like regular wiki markups, adding external links, and uploading screenshots are still possible with the new editor. More info about the new Source / Visual editor can be found on FANDOM Community Central.
Special:Forum is being retired as a part of these changes. This wiki rarely saw use of Forums anyways, so it's not much of a loss. In its place will be the much newer feeds-based Discussions. Discussions are a great way for people to talk about topics, whether they're about certain characters, or episodes, or even just for having fun! For an example of how Discussions work, here is the Discussions page for Encyclopedia SpongeBobia: https://spongebob.fandom.com/f
Message Walls and Article Comments are going to be rebuilt based on feeds/Discussions. All past Message Wall content will be preserved in the move to UCP, as will past comments, so any memories from past threads on Message Walls or comments on articles will be saved.
Profile itself is also going to get some changes. User Contributions will be rebranded as User Activity, and it will also include Discussions posts for the first time as well. The main user profile page will be known as About, and there will be some other new customization options as well, so you can further personalize your user profile.
...Phew! Those were a lot of upcoming changes to list! There are going to be more changes in addition to the ones I just listed in the future, since we are currently in Phase 1 of the UCP transition. When Phase 2 (which is currently in production) happens, there will be further customization options for FANDOM / Wikia communities.
To learn more about these upcoming and exciting changes, please be sure to check out this blog post from MisterWoodhouse on Community Central: https://community.fandom.com/wiki/User_blog:MisterWoodhouse/Unified_Community_Platform:_The_Vision,_Purpose,_and_Process
Character of the month
And now, it's time to reveal who our Arthur character of the month is.
The character of the month is completely chosen at random, so you never know who it will be month-to-month!
The character of the month for April 2020 is...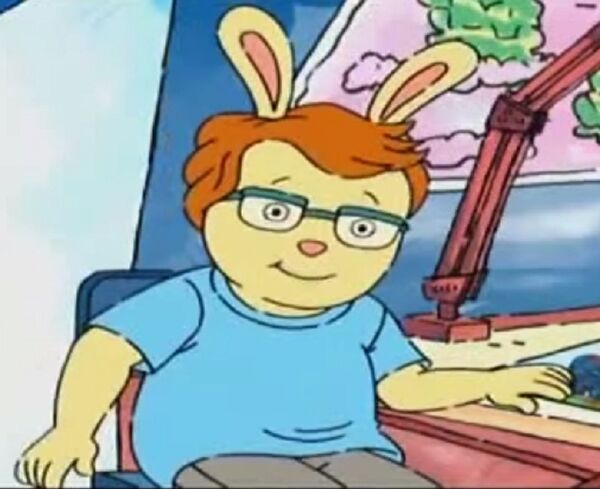 Carl has Autism, but that doesn't stop him from being able to do things. He is friends with George Lundgren, whom he first met in the Season 13 episode "When Carl Met George," also known as "George and the Missing Puzzle Piece" if you live in some international countries.
Carl is a really good artist, and one of his biggest interests is trains. Until the Season 19 episode "Carl's Concerto," he also had a fear of ventriloquism dummies like Wally.
He can play the accordion, as revealed in "Carl's Concerto," and he has also only seen Bionic Bunny once, as revealed in "He Said, He Said."
Overall, I think Carl is pretty swell. But what do you think of Carl?
(Author's note: April just so happens to be Autism Awareness Month.)
So, that's it!
And so, that concludes this issue of The Arthur Wiki Newsletter! I hope you liked reading it.
Thanks for reading, and have a wonderful kind of day!
-Arthur Read fan
The Arthur Wiki Newsletter is released once a month, on the second Monday of the month. The next issue will be released on Monday, May 11, 2020.
Read all past issues of The Arthur Wiki Newsletter here.