May 11, 2020
Hey there, everyone! This is Arthur Read fan, an admin of Arthur Wiki.
Now, you may be wondering why the main image of the newsletter this month is of Arthur Read holding a jar of saved money. Well, there's a reason for that, but the answer won't be revealed until later in this newsletter. In the meantime, though, I have some other announcements to make for this month.
Let's start off with a brief history retrospective on MediaWiki, which is what underpins all of the wikis on FANDOM / Wikia, including this one. If you read the last newsletter, you may remember that I said that FANDOM will be upgrading from MediaWiki 1.19 to MediaWiki 1.33 as part of the UCP (Unified Community Platform) project. Well, this month's retrospective will delve deeper into why FANDOM is upgrading its version of MediaWiki to a version seven years newer.
A brief history of MediaWiki
MediaWiki originally started being developed in 2001, for the purpose of hosting Wikipedia. It was officially launched in January 2002, and interest from developers eventually led to the creation of the Wikimedia Foundation, therefore allowing people to use the MediaWiki software for individual wikis. When FANDOM (back then known as just Wikia) was founded in 2004 by famed Wikipedians Jimmy Wales and Angela Starling, it was decided that the platform that Wikia would run on would be MediaWiki.
The Wikimedia Foundation and Wikia worked closely together for several years, especially during the late 2000s and early 2010s, when the first VisualEditor made its launch. But eventually, Wikia's needs and the Wikimedia Foundation's needs began to differ, and Wikia decided to "fork" off of MediaWiki in mid-2013. As a result, FANDOM / Wikia has stayed on the same MediaWiki platform, 1.19, for nearly seven years now.
But that will soon change. FANDOM / Wikia is realigning with MediaWiki as part of the UCP project in the near future. The decision is being made for several reasons. Here are a few of them:
1: The amount of engineering effort to maintain a highly-customized (and outdated) code is a lot higher than being on a more modern version of MediaWiki.
2: When FANDOM acquired Curse Media (Gamepedia's parent company), that brought Gamepedia into the FANDOM fold. Since Gamepedia has always stuck closely to the modern and up-to-date versions of MediaWiki, it only makes sense for FANDOM / Wikia to catch up by operating on a new version of MediaWiki.
3: For years, several wiki editors and admins of communities have wanted FANDOM to upgrade, with some feeling that FANDOM's decision to "split" from MediaWiki back in mid-2013 was a misstep in the wrong direction.
It is taking a lot of time and effort on FANDOM's part to make sure that the transition from MediaWiki 1.19 to 1.33 goes smoothly, but the end result will be totally worth it.
And that is the history / retrospective for this month. I hope you enjoyed it!
(Author's note: With permission from FANDOM staff, this month's retrospective is adapted from TimmyQuivy's blog post "On the Importance of Upgrading MediaWiki." To read the original blog post by TimmyQuivy from FANDOM staff, click here.)
The discussion about Discussions
All right, now it's time to talk about the main feature of the month, which is about Discussions.
In the last newsletter, I mentioned that Discussions will soon replace Special:Forum as part of the UCP transition. But what I didn't mention last month is that Discussions will be launching for Arthur Wiki in June. Yes, hopefully come the time for the next newsletter, if all goes according to plan, Discussions on Arthur Wiki will be a thing next month. But there's one slight problem: We will need a few active Discussion Moderators in order for a successful launch of Discussions.
I hope that there will be people here willing to be Discussions Moderators. Please note that in order to be a Discussions Moderator, one must have made at least 500 good edits here, have not been blocked within the past 6 months, and have never spammed or vandalized the wiki. And sockpuppets are not allowed either, per Arthur Wiki's policies.
If you meet the requirements and would like to offer to be a Discussions Moderator, you can ask any of the active admins. If you don't want to be one, then that's perfectly okay, too!
Character of the month
And now, it's time to reveal who the Arthur character of the month is!
The character of the month is completely chosen at random, so you never know who it will be month-to-month!
The character of the month for May 2020 is...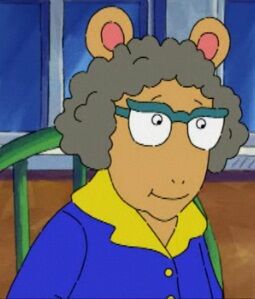 Arthur's Grandma Thora may not always be the best cook around, but she is very kind, caring, and understanding.
In the episode "Arthur's Chicken Pox," Thora helped to take care of Arthur when he had the chicken pox, in "Arthur Unravels," she taught Arthur and D.W. how to knit, and in "Arthur's Toy Trouble," she bought Arthur a Mutant Muck Monster action figure.
Most recently, she went with the Reads on a road trip to the Read Family Farm in Ohio to help celebrate Theodore Read's 85th birthday in the special "The Rhythm and Roots of Arthur."
Overall, I like Thora Read. But what is your opinion on her?
And now...
Remember the beginning of the newsletter, where Arthur Read was holding the jar of saved money? Well, now it's time to reveal the reason why he is doing so! He is saving money to buy...
An all-new Arthur DVD! That's right! An all-new Arthur DVD, "Arthur: The Ultimate Friendship Collection," is coming soon, and will be released on Tuesday, August 11, 2020!
The DVD will contain 3 discs, and a total of 48 11-minute episodes, centered around the friendship theme. When I contacted PBS about what the episodes on the DVD would be (since the ShopPBS and Amazon.com listings for the DVD don't give a full episode list, at least, at the moment), they gave me a full list. So, I will share that list with you:
Here are the 48 11-minute episodes that will be on the DVD, according to PBS:
If you're interested, you can get "Arthur: The Ultimate Friendship Collection" on Amazon.com, on ShopPBS, or any other retailer that sells Arthur DVDs when it releases on Tuesday, August 11, 2020. Please note that this is a Region 1 DVD set.
One more thing... In case if you didn't know already (and if this is your sort of thing), Arthur Funko Pop Figures of Arthur and D.W. will also be releasing in the near future, in June. Here are what they look like: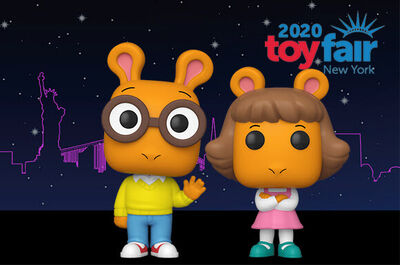 You can get these at any retailer (retail or online) that sells Funko Pop figurines when they release in June.
That's it for this month!
And so, that concludes this month's issue of The Arthur Wiki Newsletter! I hope you enjoyed reading it.
Thanks for reading, and have a wonderful kind of day!
-Arthur Read fan
The Arthur Wiki Newsletter is released once a month, on the second Monday of the month. The next issue will be released on Monday, June 8, 2020.
Read all past issues of The Arthur Wiki Newsletter here.