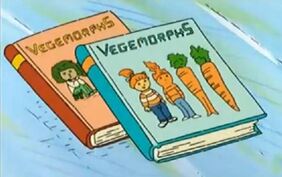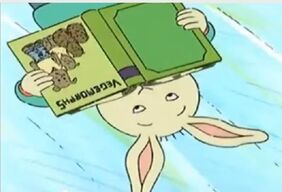 Vegemorphs is a book series that appeared in "D.W. Tale Spins". It is believed to be stories about kids that can turn into vegetables. Arthur and Buster say that it "makes the Scare-Your-Pants-Off books look like kid's books". They do not have any pictures.
Known Books in the Series
The General
The Specific
The Random
The Trilogy Part 1
The Trilogy Part 1- Part 2
The Trilogy Part 1- Part 3
Trivia
It is a parody of Animorphs, a book series by K.A. Applegate. The covers of the books match the basic style of the original releases of the Animorphs books featuring the characters in various stages of morphing. They also parody the style of naming of the Animorphs titles, which began with The Invasion and ending with The Beginning.
Whereas Arthur's comment seemed to indicate that the Vegemorphs titles were very scary, the Animorphs titles, while featuring frightening villains, were not always primarily fright tales, often dealing with serious political or philosophical issues, while at other times delving into the comic.
The Animorphs books were first released in June 1996, shortly before the premiere of the Arthur television show. At the time, they were highly popular with many in the show's target demographic, as well as other fans of genre fiction.
Community content is available under
CC-BY-SA
unless otherwise noted.