Cobra Kai Season 4 - The Loop
Play Sound
Virtual Goose!
Game Information
Game type
Pattern recognition
Main character(s)
Various
Release Date
2001
Platform
Online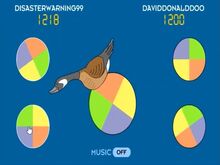 Virtual Goose! was a game on the PBS Kids website. It was made to go with the episode, "Sue Ellen Gets Her Goose Cooked". The game was released sometime in 2001, and was removed from the PBS Kids website sometime around 2016-2018. Although bearing the same name as VirtualGoose, there is a drastic difference in gameplay.
Gameplay
The player types a screen name to use. The player then is presented with a large circle, and 4 circles around it. The object of the game is to pick the other circle that has the same pattern as the central circle, although possibly rotated. Each correct score earns points, gradually allowing the player to beat the scores of other players until they beat DISASTERWARNING99. Any incorrect answers result in automatic elimination.
The player plays against, in order, ANTMUNCHER52, FRANKENSTEIN459, ANTENNAEARS72, BLACKBELT44, and DISASTERWARNING99.
Trivia
External links