This article is about the doll. You may be looking for the episode.
World Girls
Item Type

Doll

Owner

Appearances

First Appeared (cartoon)
World Girls are a toy set of dolls that depict girls from every country and continent in the world. They are a parody of American Girl dolls. Each World Girl doll comes with its own book about the country it is based upon. In "World Girls," Muffy aims to collect all the dolls from every country around the world. Sue Ellen wants to get a loom for Pema, the only doll she owns, and Francine buys a Babe Didrikson Zaharias World Girl doll for herself, even though she wasn't interested in them before.
In "D.W., Bossy Boots", D.W. buys a Marie Antoinette World Girl doll for Emily's birthday.
In "Cents-less", Binky buys a Tammy the Tornado World Girl doll, which he considers an action figure.
World Girl Dolls​​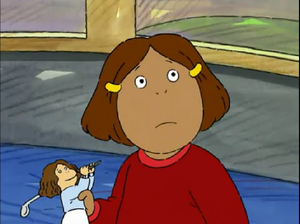 There are also a large variety of other dolls, such ones in the sports section of the superstore. It features World Girl dolls like Babe Didrikson and Olympic athletes. World Girls representing historical women also seem to exist, as Cleopatra and Marie Antoinette are two of the World Girl dolls.
Pema, the Tibetan World Girl, has been discontinued. According to the company, it's because she did not generate enough accessories due to Tibet being a Buddhist country.
Trivia
Even though there is an Antarctica World Girl doll, Antarctica has no indigenous or permanent population. Also, Antarctica is not a country, but a continent, although much of Antarctica is claimed by various countries.
Ludmila, the name of the Estonian Girl-doll, is actually a Russian name rather than an Estonian one, although Estonia does have a large Russian population due to formerly being part of Russia.
The World Girl-version of Marie Antoinette is part of the France-collection and speaks French, but the real Marie Antoinette was actually from Austria and her native language was actually German (though she knew how to speak French). Marie Antoinette didn't start living France until she married Louis XVI.

The doll also comes with a cake and cake-plates, based on Marie Antoinette's supposed statement of "Let them eat cake," which many historians suspect she never actually said.
Community content is available under
CC-BY-SA
unless otherwise noted.